Estimated reading time 2 minutes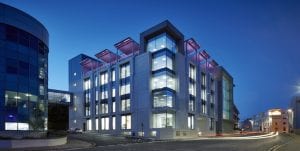 After two years in the making, Microgaming has opened the doors to its new state-of-the-art headquarters on the Isle of Man.
Microgaming is one of the world's leading developers of online casino software and the new headquarters are proof of the continuing growth of the company.
The new purpose-built HQ is next to the existing Microgaming offices, with a unique sky bridge now joining the two buildings together. The five-story building holds 100 employees and is complete with a periscope providing 360 degree views across the stunning Isle of Man surroundings.
The brand new 45,000 square foot building includes 16 meeting rooms, hot desks, phone booths, break-out areas, communal areas, café and canteen, and was built to the most environmentally friendly standards possible. The Microgaming building is the first on the Isle of Man to achieve the BREEAM rating of Excellent, which is the world's leading environmental rating system for buildings. To ensure a commitment to sustainability, all coffee and smoothies in the café are served in reusable cups, recycling facilities can be found on each floor and lots of the unused materials from construction were re-purposed into new furniture for the offices.
The new Microgaming HQ also include table tennis, darts, pool tables, poker tables, a staff library, gym, treatment rooms, and a rooftop garden that provides expansive views across the island – lucky employees.
Roger Raatgever, CEO of Microgaming said, "It's incredible to think that when we set up Microgaming on the island back in 2001 there were just six staff. Now we are a campus in the heart of Douglas, with two large offices, and best of all they are connected by a sky bridge, which was a must for me! It's an exciting new chapter for Microgaming and I'm immensely proud of what we achieved in our home."
Latest Microgaming online slots releases
Microgaming staff are on a bit of a roll recently with a new hit in their latest released game EmotiCoins, a five-reel, 30-payline online slot born from an idea pitched by two members of staff, Anna McChesney and Rob Mercer, at the Microgaming Idea Factory.
The themed slot, which quickly gained sponsorship from the Business Intelligence team, was based on the rising popularity of emoticons in the modern social media saturated landscape and was one of five winning ideas out of 27 put forward at the development initiative. The game is now live with Microgaming and Quickfire operators on desktop and mobile – players from United States can try it out at Raging Bull Casino for real money or free play, as well as hundreds of other online slots and table games.