Estimated reading time 1 minutes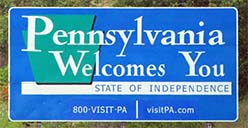 Licensing applications for online gambling in Pennsylvania will begin by mid-April.
This was revealed by the Pennsylvania Gaming Control Board (PGCB) recently during a budget hearing at the House. This will activate a 90-day period during in which interested applicants can apply for gambling licenses before others from outside the state can put in their bids.
Nearly five months ago, Pennsylvania Governor Tom Wolf signed the bill legalising online casinos into law. Within a month from now, online gambling operators will be able to apply for iGaming licenses in the state.
PGCB Executive Director Kevin O'Toole explained that starting from mid-April; there would be a 90-day window during which interested Pennsylvania operators can make their claims.
"[The] first 90-day period will be mid-April and will go through mid-July," O'Toole said.
During this period, interested Pennsylvania operators can obtain the all-in-one gambling license for a discounted $10 million. The general license will cover:
After receiving the applications from interested operators, PGCB will have another 90 days to review them before approving. For operators that do not desire the all-in-one license for $10 million, they will have to wait until the 90 days window is passed before they can apply for single gaming licenses that costs only $4 million.
Operators who are granted licenses can then hope to launch their sites before the end of this year.
For operators wanting a share of the state's gambling market, they can apply from outside Pennsylvania for only $4 million. But this will be 120 days after those from within the state have put in their claims.
Online casinos are not the only kinds of gambling coming up for licensing in Pennsylvania within the coming weeks. Others include:
Video gambling terminals
Online lottery
Fantasy sports
Mini-casinos
All these licensing applications are grouped under Categories 1, 2, 3 and 4.