10 best online slots for the USA
10 best online slots for the USA
Estimated reading time 2 minutes
Here we look at the 10 best online slots for the USA from the top software providers available to American players.
American online slot fans have to deal with the fact that they have a limited software selection compared to the rest of the world. To help you out, here we've put together a list of the 10 best online slots for US players.
More about the best USA online casinos

Best online casinos accepting USA players
1. Realtime Gaming's Lucha Libre Slot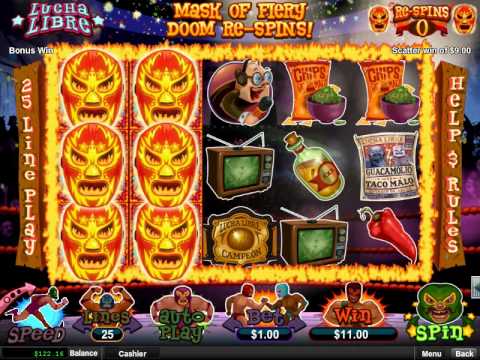 Based on a humorous take on the Mexican style of professional wrestling, this is a title that's completely packed with bonus features. You can see different masked wrestlers face off in the ring with special flying moves and some serious free spins bonus rounds with chances to fill the reels with the special mask scatter symbol.
2. BetSoft's Alkemor's Tower Slot
If you're a fan of wizards and magic, then the Alkemor's Tower slot will appeal to you in a major way. This game has multiple levels of play with magic spells on the reels that drive the gameplay and give you lots of ways to win. With its high hit-rate and 3D graphics, it's a title with both strong aesthetics and an exciting pay schedule.
3. Rival Gaming's Frogged Slot
Players who remember the arcade game Frogger will love this slot by Rival. You'll guide a frog across lanes of traffic and through the swamp in different stages to try to make it further into the game for better chances at bigger winnings. This is one of the best video-games-turned-slots ever created by any software company out there.
4. Realtime Gaming's Ronin Slot
This game is a little older than some of the others on this list, and its graphics look somewhat dated, but it has stood the test of time because of its tremendous gameplay. As a high-volatility slot that does not have some huge progressive attached to it, the wilds and scatters come together to deliver big payouts and value-packed bonus features.
5. BetSoft's Birds Slot
Birds stands out for two reasons. First, it looks absolutely incredible and is competitive with any of the best-looking games in the industry as a whole. Second, its gameplay is based on matching up sets of birds on power lines, and they look like something straight out of a Pixar film. The gameplay is also not based on regular paylines, which makes it stand out from this list in general.
6. Saucify's Elementium Slot
The Elementium slot by Saucify gives players a look at the different elements found in various mythologies. It combines a bright and vibrant space theme with the different natural elements (earth, water, wind, ice, etc.) to create a play environment stands out from anything else you'll find on this list. The gameplay is drive by a 10-payline layout as well, which is perfect for players who like a more controlled number of ways to win.
7. BetSoft's It Came From Venus Slot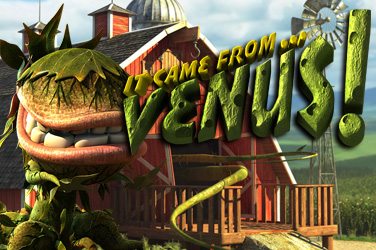 There aren't a lot of character-driven online slots out there, but this one fits the bill. It's based on a secret government group coming after a simple farmer who has found an alien plant that he's taken in as a pet. It has excellent 3D graphics as a part of BetSoft's Slots3 line, and it has a plethora of different features that fit perfectly with the story that's being told in the game.
8. Realtime Gaming's Hillbillies Cashola Slot
Atypical themes often get the attention of players, and that's exactly what's happened with this particular game. You'll find a set of hillbillies who have been making moonshine on the reels, but it's not just the theme and graphics that make this game popular. The gameplay is centered around some tremendous multipliers that give you chances for incredibly boosted payouts overall.
9. BetSoft's 4 Seasons Slot
Based on the Chinese zodiac, the 4 Seasons slot allows you to choose what the payouts are for all of the symbols from a list of different tiers. It also has the excellent 3D graphics that games from this provider are known for, and it has a nice bonus feature that raises the payouts a bit and makes it easier to win. If you're into cute animals and serious payouts, then this is one that you will most certainly want to take a look at.
10. Realtime Gaming's Cleopatra's Gold Slot
This is likely to be the most popular progressive jackpot slot available for American players, and it's also available in a non-progressive format for players who would like to smooth out the volatility a bit. The graphics are somewhat mediocre, but players who like shooting for a serious payout that could change their life in just one spin still come to this title on a regular basis for their shot at the big one.
Join BetOnline.ag to claim a 100% up to USD $1000 Welcome Bonus to be used on your favourite slot games