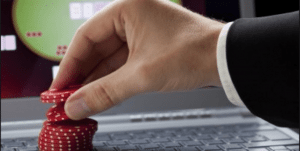 PokerStars is being put on notice following the federal government proposal of tougher laws on illegal offshore gambling providers.
The Interactive Gambling Amendment Bill 2016 was introduced into parliament on Thursday, with the aim to stop online gambling operators, which do not have an Australian license, from accepting Australian punters.
This amendment aims to close the loopholes in the current Act and make it explicitly clear to operators without a local license they will be breaking the law if they accept bets from Australian players.
Minister for Human Services, Alan Tudge, will oversee the Australian Communications and Media Authority (ACMA) as they penalise offenders $1.35 million per day for individuals and up to $6.75m per day for companies – without the need to involve the Australian Federal Police.
PokerStars, a branch of Amaya Gaming, could find their business dropping which has a population of 24 million, or be faced with these fines, since the company is incredibly popular Down Under. This is despite Australia's poker players rallying to make online gambling on poker legal, with the nation still only accepting sports betting online.
Amaya CFO, Daniel Sebag, said they would have to pull out if Bill passes.
"In Australia, we currently offer poker and are reviewing the applicability of proposed legislation to player-vs-player games of skill," he said.
"At this time, it would appear likely that if the legislation passes, we would block players from Australia."
The government doesn't seem to be loosening their grip on this stand point either with a three-pronged plan to revamp Australia's online gambling market, including the ban of all in-play apps, clamping down on offshore online operators and developing a National Consumer Protection Framework (NCPF).
This follows Tudge's vow earlier in the year to introduce legislation amending the Interactive Gambling Act 2001 which closes the loopholes Aussie-licensed operators found in order to offer online in-play sports betting.
There are more plans by Tudge to crackdown on illegal gambling if they don't comply, including creating a Movement Alert List where directors of the companies will be added and arrested if they visit Australia, as well as "name and shame lists" of operators for Australians to be wary of.
"We expect online wagering providers to meet community expectations," he said.
"The tougher laws will seriously disrupt illegal offshore providers from acting unscrupulously or targeting vulnerable Australians.
"The government is committed to taking tougher action against illegal offshore wagering providers and this bill does exactly that."
As for the establishment of the NCPF, Tudge is planning to meet on November 25 to discuss the details.


This move by the federal government, despite the lobbying by many Australian players, could mean dire consequences for the operators including PokerStars. They will either face these fines – whether or not they will have to pay them due to their location is another story – or end up blocking Aussies players and potentially face a huge loss in revenue.