Estimated reading time 2 minutes
Millers Point residents will present their case against Crown Sydney, challenging the validity of the $2 billion project.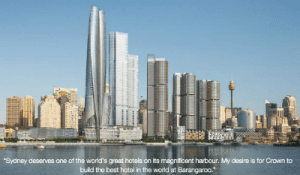 After being served in August, Crown Resorts will face off against representation for the people of Millers Point in court today, with their developer Lendlease and the Planning Assessment Commission (PAC) also named in the proceedings.
The case, which will halt work on the multibillion dollar casino and hotel if successful, presented by the Millers Point Fund will address a number of breaches the Commission allegedly committed when it approved the six storey structure back in June.
In order for Crown to get approval for the 271-metre hotel set 30 metres back from the shore, the company had to agree to the Commission's requirements of more public space, public access to an observation deck, as well as a larger foreshore walk.
However, Millers Point Fund claims it takes up too much public space and wants the tower to be re-located to Hickson Road and the site in question to be left as the old foreshore park.
While Crown Resorts has already amended their Barangaroo casino proposal earlier in the year for the PAC, if the court rules in favour of the community group, it will have to be changed again and the opening date – set for 2021 – could be delayed.
The Millers Point Fund has long been fighting the casino and hotel project contesting developers, including Lendlease, and others behind the project since it was first announced in 2013.
In a statement, a representative for Lendlease said their develepers had worked with Crown and all stakeholders to reach the best planning outcome for the project.
"Lendlease has received approval of a modification to the concept plan applying to Barangaroo South from the Planning Assessment Commission," the statement said.
"Lendlease intends to defend that approval in the Land and Environment Court."
Crown has backed these comments stating they will be vigorously defending the suit in the Land and Environment Court today.

Crown Casino Sydney has faced a huge number of obstacles including planning delays, opposition from community groups, and even had an earlier opening date of November 2019 before being pushed back to 2021.
The project has also taken a hit when 18 of Crown's employees were arrested in China last month, after they were allegedly luring Chinese high rollers to Australia's Crown resorts.
Depending on the result of this court case, we may see an even bigger delay for the Crown Sydney casino and hotel – perhaps even by a few extra years.
Looking to play at online casinos?
No matter how grand or luxurious these ambitious casino projects sound, nothing beats the convenience and premium gaming experiences offered by online and mobile casino sites. Readers from United States will be happy to know Raging Bull Casino offers new sign ups VIP rewards programs, promotional offers and regular bonuses just for registering.