Gold Diggers review
Gold Diggers review
Gold Diggers is another stunning 3D video slot machine offering from the mob at BetSoft and the prequel to one of their latest releases, More Gold Diggin'. Gold Diggers is a game chock full of features and bonuses that leap off the screen, but would you expect anything less from a BetSoft slot?

Best casino sites to play Gold Digger
Gold Diggers is a five reel, 30 pay-line slot themed in the California gold rush of 1849. Two pioneers, Skinny and Fatty, have left their homes and traveled west for their chance at untold riches. Somewhere along the way, Skinny and Fatty manage to pick up a Daisy Duke look-a-like to join them in their travels – then the real fun begins.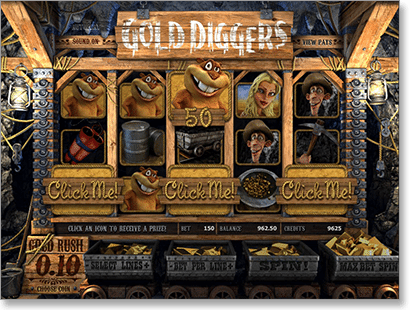 Play Gold Diggers for real money or free play at www.GDayCasino.com and get an unlimited match bonus on your first deposit upon registration.
The online slots game itself takes place in a makeshift mine complete with a dripping ceiling, swaying lanterns and carts full of gold. The background music is an almost melancholy harmonica and banjo tune.
The only thing puzzling about this game is the Daisy Duke style character: what's her angle? Why is she dressed to the nines in the middle of a mining excavation? Are Fatty and Skinny suspicious of her or are they too blinded by gold to see what this "gold digger" is up to?
With a minimum bet of $0.02 and a max bet of $150, Gold Diggers clearly has betting options for every kind of punter. Gold Digger is even available for free play.
Gold Diggers Slots Bonuses and Features
Gold Digger, by leading software company Betsoft, is bursting at the seems with three bonuses littered throughout the game that are just waiting for you to unlock and win.
The first can be triggered with three or more dynamite sticks, paying left to right on an active payline. When this is achieved, you are paid the winning amount for the number of dynamite sticks you spun. Then the dynamite symbols explode only for more symbols to fall in their place. If a winning combination takes its place, you are then paid accordingly. It's almost like a free spin, sort of.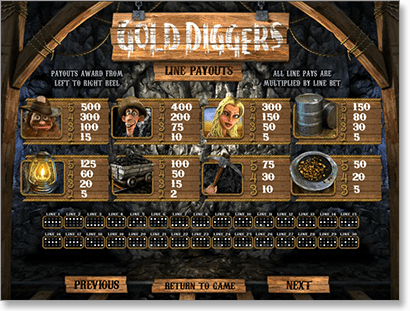 The second bonus is the Gopher a Dig Feature which can be triggered with any three or more gopher symbols on an active pay-line. Once this is achieved three "click here" symbols appear on the playing screen, behind each symbol is a bonus credit amount. Once you have clicked on all three all three are added together for one massive win.
Lastly three or more scattered Gold Rush poster symbols triggers the Gold Rush Bonus. This feature takes us to a different screen where Fatty, Skinny and Daisy are eagerly waiting in front of a mining wall with six options on it. You get to choose three places for Fatty and Skinny to mine and in the end you win the total amount of gold that you unearth.
Gold Diggers Video Pokies Symbols
In descending order of value, the symbols in Gold Digger are Fatty, Skinny, Daisy, Dynamite, oil drum, gas torch, coal cart, pick-axe and the pan of gold.
Obviously the Gold Rush poster symbol and the Gopher symbol are independent of these.
Sadly, Gold Diggers can't boast the services of a wild symbol which is a little disappointing. That one shortcoming is easy to overlook though because Gold Digger is otherwise the complete online pokie experience.
Where to Play Gold Diggers For Real Money
More: Online slots reviews
Gold Diggers is available to play through trusted online venues G'Day Casino, House of Jack Casino and Emu Casino. Each of these casinos are safe and easy to use and all of them offer unique bonuses when you sign up.
Each of the above casinos accepts deposits through safe methods such as Neteller, Paysafe Card and Credit Cards. Check each site for their specific terms and conditions relating to deposits and withdrawals.
Between Fatty and Skinny's hijinx with "Gold Diggers" Daisy and the other features, this is one game that is easy to get swept away with. So give it a try today – and see if you can hit gold too and make your fortune.