Review of Microgaming's Jurassic Park
Review of Microgaming's Jurassic Park
Estimated reading time 3 minutes
Steven Speilberg's iconic film — Jurassic Park — was transformed into an online video poker machine by Microgaming and we are here to find out if it does the movie justice. Featuring 243 ways to win, incredible graphics from the film, and plenty of features, we have the feeling it will.

Best online casinos to play Jurassic Park slots
It's not too hard to get caught up in decent real money online slots at the best of times, but when said pokie boasts the characters of one of your favourite childhood movies, well, it's hard to prise yourself away. The fact Microgaming has created an online pokie around Jurassic Park is one thing, but the level of detail they have managed to use and the general feeling and aura of the game grabs you and doesn't let go.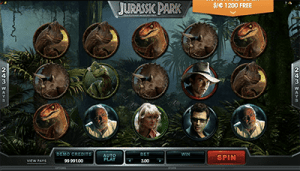 The symbols are played against a background of dense forest and has a constant, suspenseful musical score playing too. The icons spring to life in dazzling 3D when they are on a winning line and clips from the film appear when certain symbols are won.
This is a 243-way pokie, which means the symbols do not have to be in pre-determined paylines to be paid, and all ways are automatically played each spin. Bet from as little as $0.30 per spin to a $75.00 per spin. This wide range of bets makes it accessible for high stakes players and lower limit punters.
In general play the symbols consist of your favourite characters and dinosaurs from the 1993 Steven Spielberg classic. Sam Neil, Jeff Goldblum, Richard Attenborough and Laura Dern comprise half the symbols while the T-Rex, Brachiosaurus (long necked one), Triceratops (the three-horned one), Velociraptor (vicious pack hunter) and the Dilophosaurus (the frill-necked spitter) make up the rest.
Sam Neil's character, Dr. Alan Grant is the highest paying symbol and the Dilophosaurus is the lowest returning symbol. On top of that, the Jurassic Park insignia is the wild and comes stacked (fills an entire row) on occasion too, which is always a great thing to see, netting that bonus payout.
Jurassic Park Bonus Features
More: Slots reviews
The mosquito in amber acts as a scattered feature trigger and this is a genuine scatter too, not one of those annoying left to right scatters. Any three, four or five mosquitoes in amber trigger the feature. Within the feature are five feature games, one representing each dinosaur that stars in the game. All feature games boast 12 free spins.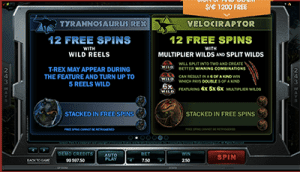 T-Rex: The T-Rex symbol is stacked and is helped along by the Tyrannosaurus randomly appearing to turn anywhere from one reel wild to all five.
Velociraptor: Velociraptor is stacked and wilds during these free games can split in to two wilds, bettering your chances for a decent win. Wilds can also pay up to x6 multiplier.
Triceratops: The Triceratops is stacked and with each spin an extra wild symbol is added to each reel. Full stacks of wilds will hold and partial stacks can be nudged to form full stacks.
Brachiosaurus: The Brachiosaurus is stacked and can be re-triggered during this feature. Brachiosaurus will appear to leave a multiplier of anywhere between x2 to x6 per game.
Dilophosaurus: The Dilophosaurus is stacked and this spitting, frill necked beast will appear during free games to hock a loogie which becomes a wild symbol. If that wild symbol loogie wins on that spin, it remains for the next spin.
On top of those great free games there is another hidden feature randomly triggered during the game: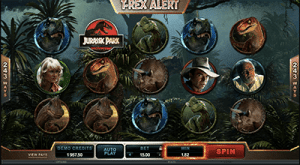 T-rex Alert Mode: When you hear the T-Rex roar and catch a glimpse of him of the background jungle, that means this fun little feature has been randomly triggered. 35 extra wilds are added to the reels for your next six spins. This is a cracking feature that also boasts audio from the movie and more suspenseful music.
With so many features, this Microgaming release is hard to pull yourself away from until you have managed to experience every feature. Our personal favourites are the T-Rex alert, the Velociraptor and Brachiosaurus features.
Anything which allows you to mix childhood favourites with engaging gameplay, fantastic graphics and more features than you can poke a stick at is a great achievement.