Lost Vegas pokie review
Lost Vegas pokie review
Walking Dead fans can finally pick sides with Microgaming's Lost Vegas pokie. Whether you prefer to be running from the dead with the survivors, or chasing down the living with the zombies, you can win big on both sides. Overall we feel as though Lost Vegas is one of the best online slots of 2016.

Where to play Lost Vegas online
Microgaming has created an incredibly interactive video pokie featuring gory graphics and multiple bonus features as you play in one of two available modes. We check out what else this title has to offer below.
Format of Lost Vegas by Microgaming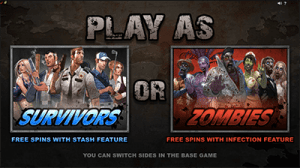 Lost Vegas takes the standard Micrgaming format of a 5 reel and 3 row pokie featuring 243 ways to win. But what makes this title unique is the option to choose from one of two modes to play in.
The modes include the Zombie mode and the Survivor mode, and each are set with their own bonus features. You can also switch sides in the base game if you aren't going as well as you think you could be.
There are 15 coins available to play with each coin offering a minimum of 0.01 and maximum of 0.50 to be played. This results in a minimum of $0.30 and a maximum of $225 per spin – suited to most players. You can play around with the bet size using the buttons below the reels.
You will also find the Auto Play button, where you can decide how many automatic spins you want to play with the same bet, as well as the Spin button under the reels.
Lost Vegas symbols and payouts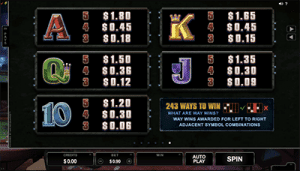 If this title didn't include the option to make gameplay even more interactive via the two modes, we would suspect it was very similar to previous releases. This is due to the use of the 243 ways to win format at the low paying symbols being represented by the A to 10 symbols. These are the same in both modes and you need to spin at least three of a kind to earn a payout.
The middle to high paying symbols is where the theme comes into play. Depending on the mode you have chosen the five symbols will either be five different survivors holding weapons, or they will be five different zombies. Spin at least three of a kind of any of these symbols to score a payout.
The Wild symbol is the same in both modes though, represented by the pokie's logo and it substitues for all symbols except the Scatter.
The Scatter is also the same, and features the toxic symbol with the text 'Scatter'. It triggers the Free Spins feature in both modes, which we detail below.
You can view the payouts after you have adjusted your bet size and chosen your preferred mode, by clicking on the paytable.
Microgaming's Lost Vegas bonus features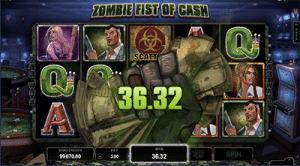 Lost Vegas features an array of bonous features to keep players entertained when they aren't busy being or hunting the living.
First up is the Zombie Fist of Cash bonus which occurs in both modes in the base game. It will randomly trigger after a non-winning spin and a huge zombie hand will appear and award you with a cash in hand prize.
Next up is the Blackout Bonus, which is also activated randomly in the base game of the Lost Vegas of both modes after a non-winning spin. It will remain for one spin where you will be awarded for any middle to high paying symbol on the reels. Additionally, you can trigger the Free Spins feature with just a single Scatter here.
If this bonus isn't activated, you will need at least three Scatter symbols to trigger the Free Spins Feature, which is where the two modes differ in terms of what bonuses are on offer.
The Survivor mode sees endless spins awarded, only ceasing once you have collected 20 low paying symbols, each of which score you a stash of cash set to be added to your other winnings from the free spins. These spins can last quite a long time – meaning huge wins.
The Zombie mode sees Stacked zombies turning Wilds into Stacked Wilds and will only stop spinning once all reels are infected, or when you've played 50 free spins – scoring you huge cash payouts.
Audio and graphics of Lost Vegas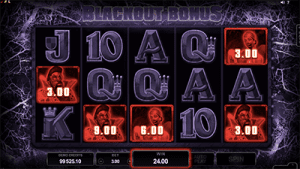 The graphics on this pokie are outstanding – which is expected by Microgaming. They offer two different backgrounds to suit the mode you've chosen, each set in the overrun city of Vegas.
The symbols jump out at you on a win, and the short cartoon videos between bonus features really take this pokie up a notch.
There's an eerie soundtrack which creates a spooky atmosphere, perfect for either side you've chosen. However, when you spin the reels the mechanical sound Microgaming seem set on using occurs and you'd be forgiven if you chose to mute it in the top right hand corner.
Our thoughts of Lost Vegas by Microgaming
More: Online slots reviews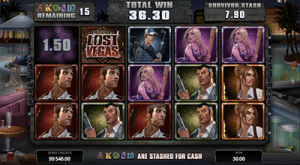 The fact you can switch up modes, alternating between Zombies and Survivors, makes this an incredibly entertaining pokie. While the randomly activated bonuses would've been even more appreciated if they differed in the two modes, we do enjoy the cash payouts they offer.
The Survivor Free Spins is incredibly rewarding – we earned over $200 from $3 per spin bet – and the additional wins from the aforementioned bonuses kept our account balance happy.
Microgaming's Lost Vegas is an entertaining pokie which we recommend playing – just be careful who's side you're on.