Playboy multiplayer review
Playboy multiplayer review
From the talented team at Microgaming comes the much anticipated spin off to 2013's hugely popular Playboy pokies game, Playboy Multiplayer pokies. The multiplayer version has all the perks of the original game, from the sexy women, classy interface and tranquil background music – but six people can play.

Where to play Playboy pokies online
More Microgaming slots casinos
Chat functions allow for social interaction and extra bonuses keep gameplay intriguing. We take a look what else is on offer on this branded pokie by Microgaming.
Format of Playboy Multiplayer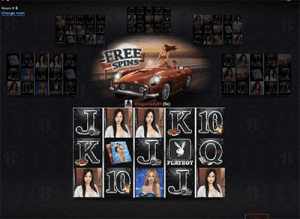 Playboy Multiplayer employs much of the same design as its predecessor, featuring the beauties from the Playboy brand on a 5×3 reel display. However unlike the original which used Microgaming's popular 243 ways to win format, this version utilises a traditional payline system – with 20 fixed paylines.
Playing for real money, punters have the option of betting up to 600 coins per spin, with a minimum bet of $1 with a maximum bet of $30.00 per spin.
Although this game is impressive in its own right, it's the multiplayer function we've really fallen in love with. Being able to interact with other players – up to five fellow players – brings a fun air of social activity to this online pokies game, allowing friends and strangers to chat as they play side-by-side just as they would in a land-based casino.
Players have full view of one another's games, adding a nice competitive edge, with the chat function allowing for congratulations, condolences, small talk and friendly banter. Multiplayer Playboy sets a new bar for the social community within online gambling.
You do need to be logged in, in order to play this game so sign up to All Slots Casino and make a deposit to get playing the Playboy title.
Additionally, you may find the pokie offering real money pokies tournaments, too.
Microgaming's Playboy Multiplayer symbols and payouts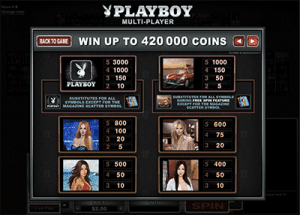 Microgaming has stuck to the traditional symbols including 10 to A to represent the low paying symbols. You can view the payouts via the the paytable after adjusting your betsize.
This online slot features the stunning Playboy girls, as seen in the original, to represent the middle and higher paying symbols.
The Wilds and Scatter are the same as they are in the original game. The iconic Playboy Bunny logo serves as the wild symbol and substitutes for all other symbols (bar the magazine Scatter) to complete winning combinations, while the Scatter symbol is the Playboy Magazine cover. An appearance of the magazine scatter will result in a win no matter which direction it appears over the reels, with all scatter wins multiplied by the wager placed.
Playboy Game Bonuses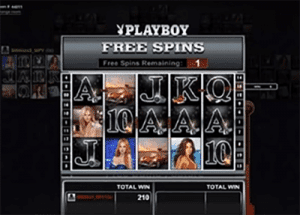 There are so many bonus features in this game it's hard to keep up (not that we're complaining). Playboy Multiplayer goes far beyond the already vast range of bonuses offered by the single player version with some spicy new extras.
Bonus Thermometer – This somewhat follows the achievement system of the original Playboy game but has greater intensity. The thermometer gets hotter and hotter as the reels are played. To keep the thermometer active all you need to do is keep spinning with no extensive breaks, as lapses in gameplay will cause the temperature to cool down. The thermometer can be found on the right hand side of the screen and will get hotter at a satisfyingly fast rate. Once the temperature reaches boiling point, keep spinning to increase the free spin multiplier which has the potential to go as high as 90x.
Free Spins – Free spins are triggered randomly, with up to 12 free spins waiting to be activated out of nowhere throughout the game. Triggering the free spin feature also triggers its own Wild symbol, the sports car.
Audio and graphics of Playboy Multiplayer
While the online slot's audio and graphics are incredibly similar to the original, the sassy ambience is still available – with an added social element making this title worth playing.
However, the reels are a lot smaller, so you can see the other player's reels. This shows you when they win and lose so you can all chat about it together.
The audio is quite swanky, but if it puts you off while chatting and playing simply mute it in the top right hand corner.
Our thoughts of Microgaming's Playboy Multiplayer Slot
More: Slots reviews
Microgaming first teamed up with Playboy in 2013, utilising Playboy Bunnies as hosts in live dealer casino games, and it was the start of beautiful partnership. Playboy Multiplayer is a thrilling indication of the direction that Microgaming is heading in, and if this is the quality of game that the team is capable of producing, then we say keep 'em coming! The original Playboy pokies game is still a player favourite, but this multiplayer edition really steps things up a notch.
As a low-variance slot game, we love Playboy Multiplayer for its social aspect above all else. The features and bonuses available in this game are awesome, but it's the cool addition of being able to interact with other gamers while playing for real money that makes this pokies game so much fun. Based on its low-variance, this game is perfect for lower betting punters and recreational players, but that's not to say there isn't some serious cash to be won here.
While the social side of this game isn't for everyone, the bonus thermometer with its crazy high multiplier of up to 90x should certainly do the trick in fast securing this as a player favourite.