Spinata Grande pokie review
Spinata Grande pokie review
Spinata Grande is a unique, Mexican themed online pokie from the thinkers down at the NetEntertainment laboratories. Spinata Grande harnesses all of the colour, excitement and fun of a Mexican pinata "fiesta" and uses it to create a thrilling online pokie. Usually when NetEntertainment releases a new pokie you can feel safe in the knowledge it is going to be good, because NetEntertainment rarely produces duds.

Where to play Spinata Grande pokies online
Spinata Grande is an innovative game that plays with some of the more expected aspects of online pokies to create a thoroughly original and entertaining gaming experience.
Spinata Grande in short
Maximum Coins Per Spin: 10
Maximum Coins Per Line: 10
Minimum Bet Per Spin: $0.20
Maximum Bet Per Spin: $200
Scatter: No
Wild: Yes
Bonus: Yes
Free Spins: Yes
Jackpot: 120,000
RTP: 96.84%
How to play
More: Slots reviews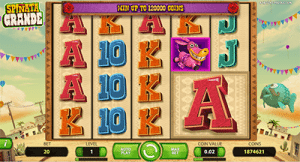 Spinata Grande is a five reel, 40 pay-line online pokie with a minimum bet of $0.20 and a maximum bet of $200. The wide range between minimum and maximum bets makes Spinata Grande the perfect game for punters of all levels. Whether you just want to have a harmless spin or get into some serious gambling, you are well catered for.
The background of the Spinata Grande online slot shows a small Mexican town in the grips of a fiesta, complete with pinatas and flags hanging everywhere. Each spin continues a traditional Mexican mariachi song. Between spins there is quaint background noises of a small Mexican town like a stalling ute and a man whistling. The cartoon graphics of this pokie are colourful and fun and suit the theme perfectly.
Not only does Spinata Grande utilize stacked symbols, they have taken this concept a step further by introducing colossal symbols. Colossal symbols can appear on any reel and can appear as either 2×2 symbol blocks or 3×3 symbol blocks as well as stacked symbols too.
Symbols
In descending order of value the symbols are the red bull pinata, the pink horse pinata, the green bird pinata, the blue fish pinata, Ace, King, Queen, Jack and 10.
The colossal mini-slot bonus symbol can appear at any time during paid games and has the potential to trigger free games.
Special features
The colossal mini slot symbol, once spun on the reels, goes into bonus mode with each tile within the colossal symbol – so nine resin if the entire 3×3 colossal symbol is spun up. There are four possibilities during the mini-slot bonus: a bronze coin, 20 credits, a silver coin, worth 40 credits, a gold coin worth 80 credits and a star pinata.
If three star pinata symbols appear during the colossal mini-slot bonus re-spin then five free games are triggered.
During free spins if you manage to spin up the colossal mini slot symbol only bronze coins – 20 credit bonuses – and extra free spin symbols are available.
During your free spins is the only time the colossal wild symbol, which is always 3×3, is available. The colossal wild substitutes for all symbols except the colossal mini slot symbol.
Verdict
Spinata Grande is an absolute gem. Its originality sets it apart from the rest of the rat race. I personally love the Mexican theme. Playing this in the comfort of my own home while chowing down on a foot long burrito and shooting tequila like a Mexican cartel cowboy is my ideal night in: take note ladies. NetEntertainment never disappoint me and they still haven't. In fact they seem to be trying to bring in new advances with each new release.