Estimated reading time 2 minutes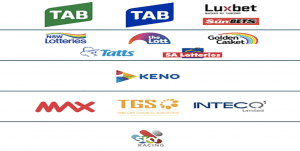 Two of Australia's largest publicly listed gaming companies, Tabcorp Holdings Limited and Tatts Group, have proposed an $11.3 billion merger.
The two companies together will control more than 90 per cent of Australia's totalisator betting industry and are expected to generate revenues of more than $5 billion – earnings are expected to increase by a minimum of $130 million a year.
Tatts Group currently owns three divisions including lotteries, wagering and gaming solutions, while Tabcorp Holdings Limited owns wagering, gaming, keno and media divisions. Together, the companies will become one of the strongest gaming corporations across the globe, able to compete with all the international bookmakers making headway in the Australian market.
The merged business will own the following assets:
TAB, Luxbet and Ubet bookmakers
Lottery companies Tatts, Golden Casket, NSW Lotteries, SA Lotteries and The Lott
Keno and poker/pokier machines
The Sky Racing broadcasting network
Gaming software developing platforms, Maxgaming, INTECQ, Tabcorp Gaming Solutions (TGS), ByteCraft and Talarius PLC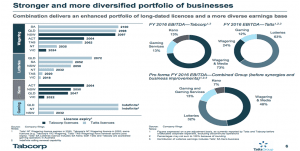 The proposed merge is good news for Tabcorp and Tatts shareholders, with both companies reporting increased share prices following the revelation of the merger details. According to reports, Tatts shareholders will receive 0.8 of Tabcorp Holdings Limited shares plus 42.5 cents for each Tatts share.
Chairman of Tabcorp, Paula Dwyer, said that "bringing together our businesses will create a strong and diversified business that is well placed to invest, innovate and compete, both in Australia and globally."
"The combination of these businesses is compelling; it creates a globally scaled diversified gambling business that can really add significant value across the portfolio of businesses," she stated.
Chairman of Tatts Group, Harry Boon, echoed Dwyer's thoughts explaining the merge will build a much stronger, homegrown platform to compete against foreign bookies established in Australia's domestic gambling market.
Current Chief Executive of Tabcorp, David Attenborough, will be promoted to Chief Executive Officer of the new merged business, and said the deal would provide the racing industry with an additional $50 million per year and would lead to significantly larger wagering pools, ultimately attracting more punters.
Australian Super and Perpetual, two of Tatts Group's largest shareholders, have expressed support for the proposed merge.
The merge will also sure up the Australian lottery industry, as the business becomes the biggest provider of national lottery and keno games.
Analyst for Standard and Poor, Graeme Ferguson, said "Tabcorp's new exposure to the lotteries segment will be the greatest driver of the improvement in its business risk profile."
While there are still hurdles to overcome – it will come under heavy scrutiny from the Australian Competition and Consumer Commission (ACCC) – Dwyer remained confident the deal would succeed, hoping to have the deal completed by the middle of 2017.
Our take: From a customer's point of view, this merge will be well received, with the new entity able to strengthen Australia's betting industry by offering all gambling services and products under the one brand name. The merge will also likely incorporate more benefits and rewards for consumers.
A massive local gaming corporation will also be extremely good for increased revenue within the gaming industry, allowing for higher quality services and products. Additionally, the unified business will be able to really take it up to offshore betting companies which have invaded the Australian wagering market.
Looking for real money online casinos?
Players from United States can sign up at Raging Bull Casino to redeem a multitude of bonuses and rewards, and play hundreds of the best slots and table games.