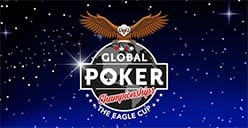 THE second annual Eagle Cup will be held, with Global Poker announcing the event would have a purse of $750,000.
Global Poker is US-friendly and beats the online poker ban by using a "sweepstakes" model where you essentially buy play money and receive "sweeps" back, which are of the same value as real money.
The tournament series, which is to start on September 30, and runs through until October 21, will witness about 135 events with a combined offering prize pool of SC $750,000.
Another innovation to this year's tournaments is the offering of a varied range of buy-ins to suit almost every player.
The Eagle Cup will initially start with an SC 5,000 Freeroll prior to the official commencement day on October 1.
The biggest attraction for this year would be the main event, as it was last year. The main event scheduled to begin on October 21 promises to offer a guarantee of SC$100,000.
Aside from that, all winners of the Eagle Cup will receive a Global Poker "champions pack" and a trophy. In addition, two top finishers of each event will automatically win a seat at the table for the Tournament of Champions.
The winner of the Tournament of Champions will have the chance to partake in a live poker event of his/her choice.
Below are some schedules for the Eagle Cup:
| Date | Time | Event | Buy-in |
| --- | --- | --- | --- |
| Sun Sep 30 | 2:00 PM | Opening $5,000 Freeroll | $0 |
| Mon Oct 1 | 8:30 PM | 01-L: NLHE $3,000 Gtd | $11 |
| | 9:30 PM | 01-H: NLHE $10,000 Gtd | $110 |
| Tue Oct 2 | 8:30 PM | 02-L: PLO $2,000 Gtd [6-Max] | $11 |
| | 9:00 PM | 02-M: PLO $3,500 Gtd [6-Max] | $33 |
| | 9:30 PM | 02-H: PLO $5,000 Gtd [6-Max] | $55 |
| Wed Oct 3 | 8:30 PM | 03-L: NLHE $3,000 Gtd [2R1A] | $5.50 |
| | 9:30 PM | 03-H: NLHE $12,500 Gtd [2R1A] | $55 |
| Thu Oct 4 | 8:30 PM | 04-L: NLHE $3,000 Gtd [Rebuy, 4-Max] | $3.30 |
| Fri Oct 5 | 8:30 PM | 05-L: NLHE $3,000 Gtd [Turbo] | $11 |
| | 9:00 PM | 05-M: NLHE $5,000 Gtd [Turbo] | $33 |
| | 9:30 PM | 05-H: NLHE $10,000 Gtd [Turbo] | $110 |
| Sat Oct 6 | 3:15 PM | 06-L: NLHE $2,500 Gtd [1R1A] | $5.50 |
| | 8:30 PM | 07-L: NLHE $2,500 Gtd [Big Ante] | $11 |
| | 9:30 PM | 07-H: NLHE $5,000 Gtd [Big Ante] | $55 |
| Sun Oct 7 | 3:00 PM | 08-M: NLHE $20,000 Gtd [Deep] | $110 |
| | 5:30 PM | 08-H: NLHE $50,000 Gtd [Deep] | $218 |
| | 8:30 PM | 09-L: NLHE $3,000 Gtd [1R1A, 6-Max] | $5.50 |
| | 9:00 PM | 09-M: NLHE $7,500 Gtd [1R1A, 6-Max] | $22 |
| Mon Oct 8 | 8:30 PM | 10-L: NLHE $4,000 Gtd [2x-Chance] | $11 |
| | 9:30 PM | 10-H: NLHE $10,000 Gtd [2x-Chance] | $110 |
| Tue Oct 9 | 8:30 PM | 11-L: NLHE $3,000 Gtd [1R1A, Turbo] | $5.50 |
| | 9:00 PM | 11-M: NLHE $7,500 Gtd [1R1A, Turbo] | $22 |
| Wed Oct 10 | 8:30 PM | 12-L: NLHE $3,000 Gtd [Rebuy, 6-Max] | $3.30 |
| | 9:30 PM | 12-H: NLHE $12,500 Gtd [Rebuy, 6-Max] | $33 |
| Sun Oct 14 | 3:00 PM | 17-M: NLHE $20,000 Gtd [Deep] | $110 |
| | 5:30 PM | 17-H: NLHE $50,000 Gtd [Deep] | $218 |
| | 9:30 PM | 20-H: NLHE $5,000 Gtd [Ante Up] | $55 |
| Wed Oct 17 | 8:30 PM | 21-L: NLHE $3,000 Gtd [1R1A] | $5.50 |
| | 9:00 PM | 21-M: NLHE $7,500 Gtd [1R1A] | $22 |
| | 9:30 PM | 21-H: NLHE $12,500 Gtd [1R1A] | $55 |
| Thu Oct 18 | 8:30 PM | 22-L: NLHE $3,000 Gtd [6-Max] | $11 |
| | 9:00 PM | 22-M: NLHE $5,000 Gtd [6-Max] | $33 |
| | 9:30 PM | 22-H: NLHE $10,000 Gtd [6-Max] | $110 |
| Fri Oct 19 | 8:30 PM | 23-L: PLO $2,000 Gtd [1R1A] | $5.50 |
| | 9:00 PM | 23-M: PLO $3,500 Gtd [1R1A] | $11 |
| | 9:30 PM | 23-H: PLO $5,000 Gtd [1R1A] | $33 |
| Sat Oct 20 | 3:15 PM | 24-L: NLHE $2,500 Gtd [1R1A] | $5.50 |
| | 9:30 PM | 25-H: NLHE $10,000 Gtd [2x-Chance, 6-Max] | $110 |
| Sun Oct 21 | 3:00 PM | 26-M: Main Event NLHE $40,000 Gtd [Deep] | $110 |
| | 4:15 PM | 26-L: Main Event NLHE $15,000 Gtd [Deep] | $22 |
| | 5:30 PM | 26-H: Main Event NLHE $100,000 Gtd [Deep] | $218 |
| | 9:30 PM | 27-H: NLHE $12,500 Gtd [2R1A, Turbo] | $55 |
| Sun Oct 28 | 2:00 PM | Tournament of Champions | $0 |