Video poker strategy
Video poker strategy
Estimated reading time 4 minutes
Video poker presents a kind of hybrid between the pokies and five card poker, and while the outcome of video poker relies heavily on luck, there is a certain amount of strategy required to optimise your chances of winning. As there are many different versions of video poker available, this article will cover the basic strategy commonly required when playing video poker online.

Best real money video poker sites
How to play video poker for real money
To play online video poker for real money bets, you must first set up an account with a reputable online casino like the ones recommended on our site. Each of these venues offer some excellent welcome packages to new players. Mucho Vegas Casino is highly recommended, with a large collection of video poker variants available for online players.
Once you have an account with an online casino, make a safe deposit using a trusted payment method like Visa, MasterCard, Neteller, Skrill, POLi, Paysafecard or direct bank deposit.
Choose a video poker variant from the game lobby – the pay table will be listed on the side of the screen once the game loads.
Place your bet by selecting the coin size and number of coins you wish to wager.
Hit the deal button to receive your five card hand.
You must now decide which cards to keep and which to exchange for new cards. Click on the cards you wish to hold and click the draw button to trade. You can exchange none or all of your cards.
Upon receiving your final cards, your hand will now be assessed against the pay table to determine whether you're a winner, with any wins automatically credited to your account.
Does video poker require skill?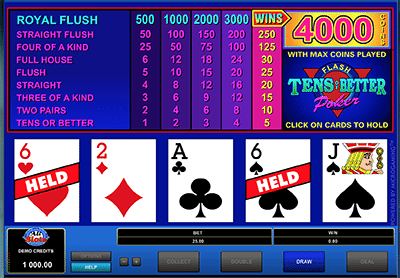 Video poker is one of the only casino games where players can get a return close to 100% when optimal strategy is used and the game offers a liberal pay scale.
It's an interesting game in that while a little strategy can go a long way, newbies can still play it without requiring any skill or prior knowledge of poker. Cards are dealt at random, with nothing a player can do to influence which cards they receive. Some skill is required when choosing whether to hold or exchange any of your cards in order to form a stronger hand, but you could do this without applying any strategy and still come out a winner if luck is on your side. The only real skill required is recognising which cards hold a higher value, which you can determine with the help of the pay table.
One of the benefits of playing video poker online is that games are played at your own pace, with no rush on how long you take to decide which cards to hold and wish to exchange. You can also try video poker games for free at our recommended casino sites, so you can get a hang of the game and get your head around which hands have the higher values before risking any of your own money.
Recommended strategies for video poker
Different variants of video poker may offer the chance to employ some additional strategies, but using the general rules of video poker, the following basic strategies are recommended for all games:
Look for games with more generous pay scales, so you will stand to win more if you play your hand correctly. Video poker is one of the only games that clearly tell you the exact amount you can potentially win, so shop around to find a paytable that works for you.
Get to know the different five card poker hands and their terminology so you know which cards are valuable – we've outlined these below to help you out.
If you have the lowest winning combination, which is usually a low pair (10s or lower), optimal video poker strategy recommends that you keep the pair so you at least have a minimal win on your hands. The exception to this is if you have four cards to a flush in which case it's worth taking your chances at the Royal or Straight Flush.
Always follow the golden rule of gambling – never bet more than you stand to win and always bet within your means.
Video poker hand values
Knowing which hands are valuable and which are worthless will be your real key to financial success in video poker. These are the five card poker hands in order of value from highest to lowest:
Royal flush – A, K, Q, J, 10 of the same suit
Straight flush – any five cards of the same suit in correct sequence
Four of a kind – four matching cards of the same value
Full house – three matching cards plus one pair
Flush – any five cards of the same suit, in any sequence
Straight – five cards of any suit in correct sequence
Three or a kind – three cards of the same value
Two pairs – two pairs of matching cards
Jacks or Better – a single pair made up of Jacks or higher
Pair – a single pair of matching cards
Online games always display the pay table and winning hands to the side of the screen, so you'll always have something to refer to. We strongly recommend signing up at one of our recommended casinos to play a few rounds of video poker for free in order to familiarise yourself with the different hands and scratch up on your strategy.
Sign up to play video poker at Raging Bull Casino, our top-rated casino site for players from United States, with games available for instant-play with no downloads required. Claim some excellent new player welcome bonuses upon sign-up.