Virtual Reality gambling
Virtual Reality gambling
Playstation VR, Oculus Rift, Samsung Gear – these are the products which are taking up residence in our household and changing the video game industry entirely. When it comes to the real money gaming industry, Virtual Reality (VR) headsets are also transforming the way we look at gambling.
What is virtual reality?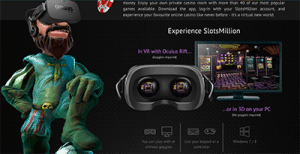 If you remember the Simpsons episode where Lisa transports to the future and Homer and Bart are battling each other while wearing headsets – the Simpsons have a knack for predicting true events (Donald Trump as President anyone?) – you will instantly know what VR is.
For those who aren't a fan of the animated series, or didn't see the episode, VR is a simulation of a three-dimensional environment viewable through a wearable device. This is generally a headset with a screen inside to make the wearer feels as if they're in a new environment.
While Sega sold a VR helmet over 20 years ago, the Oculus Rift was the first modern device to enter the market and create a whole new way of gaming. Sony, HTC, and Samsung all now have devices eligible to be purchased and worn to play.
Oculus Rift VR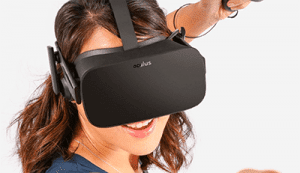 Oculus Rift is a headset which was launched earlier this year. It came about thanks to its Kickstarter campaign which raised millions and was subsequently purchased by Facebook.
The headset features an inbuilt screen which results in a 1080×1200 resolution for each eye, as well as integrated headphones. This creates the immersive feel and the rotational and positional tracking via USB stationary IR sensor allows for movement of the player.
There's now devices called Oculus Touch which are controllers made to feel as if they are your hands in the virtual world.
Other VR devices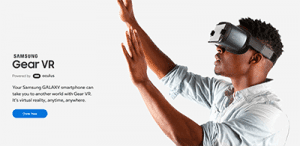 Samsung has also released a VR headset, but is powered by Oculus Rift. It can only be used in conjunction with Samsung Galaxy smartphones. This is essentially a mobile version of the Oculus Rift – provided you have a Samsung device.
Sony has been the next big brand to jump on board the VR bandwagon releasing a limited supply of headsets compatible with PlayStation 4. The PlayStation VR device works with the gaming console only, but the manufacturer has said it could take them in a whole new direction – could it be the casino direction? We hope so.
Ultimately, these devices will eventually become as advanced, and as common, as Apple iPhones have. So, what do these devices mean for real money gambling?
Real money virtual reality gambling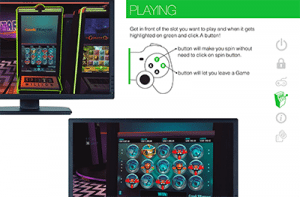 It has already been reported by 2021 VR gambling will have grown by 800 per cent. Technology giants are putting their money on VR taking off in the industry which means we will only see more and more headsets, and other VR accessories, developed.
Slots Million has already gotten a head start offering the first Virtual Reality casino – and it is has been quite popular considering we're in the first year of a VR society. All players can follow our links and click on the Virtual Reality tab to view what's on offer – an animated land-based version of what Slots Million would look like if it was a brick and mortar casino.
Interestingly, the team behind the VR casino worked closely with the Malta Gaming Authority to determine what could and couldn't be in the VR casino. The regulator specified accurate clocks had to be installed on the walls so players don't lose track of time. As you can see criteria has already begun to be created for the VR gambling realm.
There's 40 pokies available to play in the VR casino, from NetEnt, Microgaming and other top software developers and real time customer support eligible to be used.
Once logged in, players put on their Oculus Rift headset and use the keyboard or controls – you can also play without the VR if you have a PC with Windows 7 or 8 but you won't feel the three-dimensional immersion. You can then walk up to the pokie of your choice and use your controller to play, or you can head to the lounge and play via the animated tablet on the table. There's a user guide available at Slots Million to help players learn how to operate the VR casino.
So who's next to venture into the VR world?
Microgaming VR roulette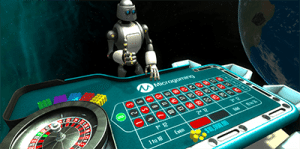 While Slots Million has the VR casino covered, Microgaming and NetEnt are getting in on the VR gaming action.
In February 2016, Microgaming revealed a VR roulette game and offered a demo version at the ICE Totally Gaming 2016 convention. Using the Oculus Rift headset for immersion and the Leap Motion 3D Controller to track player's hand movements, the demo was a complete success. From the feedback from users at the demo, the player feels as if they are sitting at a roulette table and when they make their bets they can see their own hands reaching out to the roulette layout to place them.
A robot croupier runs the show and the player can watch the wheel as it spins. When this unique game will be available is not yet known, but it could be the start of more casino games being developed for the VR world.
Net Entertainment 3D Sound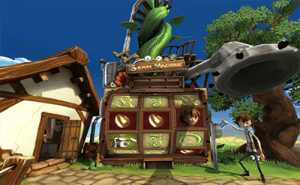 NetEnt have been also eyeing off VR but have so far taken it in another direction by focusing on 3D Sound.
The audio was exhibited also at the ICE Totally Gaming 2016 event and resulted in an incredibly innovative and immersive audio experience – Jack and the Beanstalk pokie was used as an example and we entered Jacks 3D World. The sounds made it feel as if you were hanging out alongside Jack himself.
As to where VR takes us next in 2017 – only time will tell.
For now head to Slots Million to experience the world of Virtual Reality with or without your VR headset.