Casino games for wearable computers
Casino games for wearable computers
Estimated reading time 4 minutes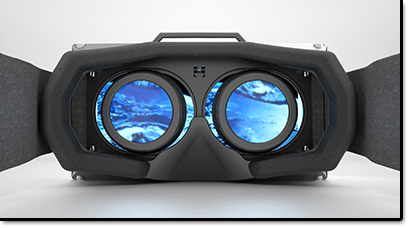 Remember the 1990s and all the obsession with cyberpunk technology? The futuristic glasses, lens and the like?
Within the last few years, major advancements in the fields of virtual reality wearable technology – optical head-mounted displays, especially – has been tremendous.
This is no longer a niche industry for collectors, daydreamers or hobbyists; several wearable devices have already been developed, produced and distributed to the general public in both prototype and consumer forms.
Google Glass, Google Wear, Oculus Rift – these new pieces of hardware have infinite potential, and promise virtual worlds and new mediums to consume information. Gambling companies are already scrambling over the new tech to develop new ways for players to live the casino experience. But just how far are we in these new fields of technology?
Wearable Computers on the Market
The truth is, wearables have been around for a long time. Since 2000, Bluetooth has shipped millions of headsets which many use for phone calls and work, and Apple and Nike's Nike+iPod, which makes iPods respond to a user's workout, has been around since 2007.
Only in the last few years has the cutting edge been tapped in the field, with Google Glass releasing in 2013 and Oculus Rift's prototype kits in late 2012. Both of these devices target different audiences and experiences, but both have the potential to shake things up in the online casino games industry – it'll just take some time.
So, is the fantasy of walking around a virtual casino and playing your favourite pokies and table games a possible thing that can be realised? Judging by the hardware specifications of the technology, listed below, you bet it is.
Google Glass for Online Casinos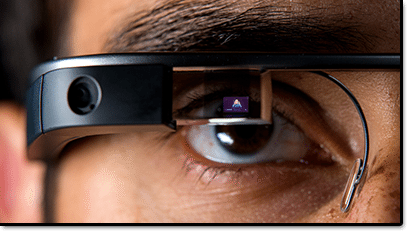 Google Glass is a optical head-mounted display (OHMD) wearable like eyeglasses, and is designed to be like a hands-free smartphone which displays information using a Liquid Crystal on Silicon (LCoS) LED illuminated display into the wearer's eyes. The device has a touchpad on the side to control it, which allows for swiping a timeline-like interface on the screen. Functions include phone calls, weather updates, photos, an organiser, integration of Google + social media and the ability to take 720p HD video – the last feature in particular has caused some controversy in the way it can be applied in casino environments, usually in the form of recording live gameplay.
A smaller, slimmer product than archetypal head-mounted display devices, Google Glass is still in its prototype phase and only a select number of people around the world have been able to purchase and use it extensively. Thus, its applications and future potential in the realm of casino gaming is still being figured out. Regardless, it doesn't hurt to brainstorm.
While not obviously meant for full virtual reality experiences, its unique way of presenting information could make it a great peripheral device to display interfaces or other features while playing online casino games like blackjack or roulette. For instance, Google Glass could display a leaderboard of the luckiest players and numbers on a table, with stats to match.
Oculus Rift for Online Casinos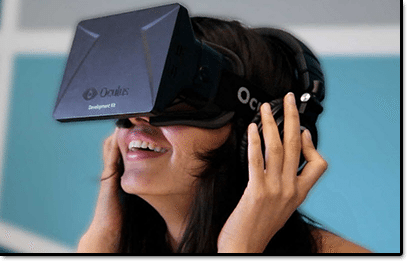 Oculus Rift, meanwhile, is a virtual reality head-mounted display, primarily designed for virtual reality games. The final consumer version has a 7-inch (18 cm) LCD screen with stereoscopic 3D and zero overlapping – the user's left and right eyes sees extra area to mimic real human peripheral vision. It provides a field of view of 90 degrees horizontal and 110 degrees diagonal, and covers a person's entire field of view for maximum immersion.
Oculus Rift already has ample support from traditional video game developers, with big names such as Valve, id Software and 2K Games porting over existing games to be playable with the device, fundamentally changing the way they are experienced and played – a player is actually fully immersed in these fictional worlds through the device rather than simply using a joystick to control an avatar. The financial and software support can only encourage the big casino game software developers like Microgaming to also invest in the new technology.
Ultimately, though, the reason why anyone in the casino world will care about the Oculus Rift is its acquisition by social media giant Facebook, which spent $400 million in cash, $1.6 billion in Facebook stock, and an additional $300 million subject to Oculus VR meeting certain financial targets. With this huge injection of cash, the developers have been hard at work in maximising its potential for developers and consumers – and casino game enthusiasts can definitely look forward to some high-profile projects which, hopefully, will see our hope for virtual casino environments be made into truly spectacular real money VR games.
Considering the fact that Facebook is already actively utilised as a platform for social media casino games by several software developers, it's not hard to envision the giant of a company merging its newly found acquisition of Oculus Rift with these interests, and providing said developers new ways to offer up their games on the platform.
Slots Million is the first online casino to take advantage of the new technologies afforded by virtual reality devices, with the casino site now hosting a VR casino floor compatible with the use of the Oculus Rift headset. Walk the floors of this high-end casino located high in a sky scraper, interact with other players and sit at the virtual slot machines to play popular slot games from NetEnt in a whole new way.
What's Available Now?
Slots Million remains the first and only online casino to offer virtual reality gaming with Oculus Rift, with other vendors slow to catch on. As players start to demand more from their online gaming experiences, it's safe to assume virtual reality casinos will become more popular in the future.
If you're not the most patient casino game enthusiast and you're looking for the most cutting edge or unique experiences available now, there's a variety of similar options available that range from novelty to niche. 3D casino games, while in its infancy, are readily available to experience on several of our recommended websites they offer up both true stereoscopic 3D animations and effects (like in the movies) and impressive 3D graphics for more interactivity in pokies and table games, which you can bet Google Glass and Oculus Rift will improve even more in the near future.