3D Video Poker (also called T.V. Poker) is a new interactive Texas Hold'em title from Mantle Games, available to play play at www.GdayCasino.com. Run by tested and approved RNG technology, the game pits four players against each other and we bet on who we think will win, with odds generated based on player and community cards. Below are three progressive shots of how the game evolves through one complete hand.
This first image shows Player 4 in the lead with a pair of Aces after the turn.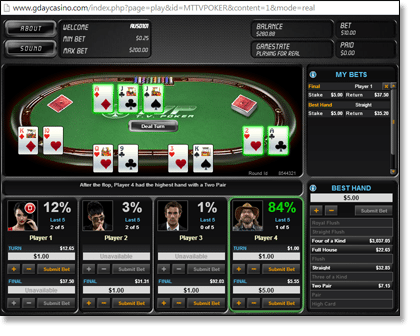 Here, bets on Player 1 to win overall and the best hand to be a 'straight' were placed directly after everyone was dealt their two cards. While the flop suited Player 4, Player 1 still holds a 12% chance of winning.
Before being dealt any cards, each player holds the same odds of taking the lead after the flop ($3.70) and winning the hand overall ($3.70) – betting prior to any cards being dealt is complete guesswork, but still a lot of fun. Otherwise, once we hit deal, two cards are dealt to each player and based on those cards, new odds are generated. We can then place wagers on who we think will win the entire hand, who will be in front after the flop, and also what the best hand at the end of the game will be (positioned to the right).
This second image shows Player 1 hitting her straight with a Queen on the turn, and now holding an 81% chance of winning overall.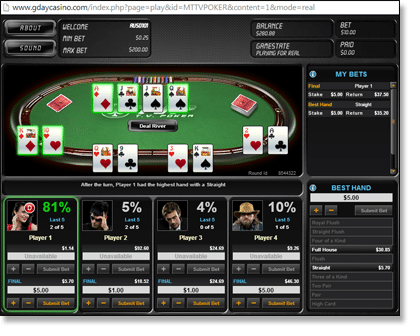 While the odds will have changed, we can continue to place wagers on all available options throughout the hand – any unavailable options such as specific 'best hands' which cannot come to fruition will be faded out. Any winning wagers we have placed will be paid out at the conclusion of the hand.
This third image shows a Three of Diamonds on the river to secure the win for Player 1, and a nice payout for the bettor (upper left corner) for selecting Player 1 to win outright and a straight to be the best hand at the end.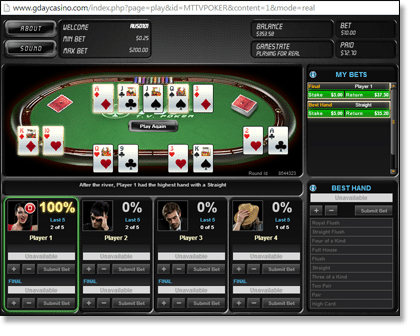 The minimum bet for this game is $0.25 and the maximum is $200. By altering the size of our bets, we alter the potential payouts. After the flop, a player might hold a 35% chance of winning outright with odds of $5.00, if we were to stake $1.00 on that player. If we were to stake only $0.25 on that player, we would stand to win $1.25, and if we staked $10, we'd win $50.
This game, while based largely on chance, also takes in to account a considerable amount of skill and nous; knowing what could happen, what type of hand could potentially be made, whether or not you should back one or more players and other important factors.
The harder it is for a player to win the next round, the higher the potential return for that player will be. Note in the event of a tie, any wagers placed on a player involved in a tie will pay the original payout dividend, divided by the number of opponent involved in the dead heat.
This new Texas Hold'em game is fantastic for those searching for a genuine game of poker, without the pressure of playing against other live opponents. We highly recommend registering an account at www.GdayCasino.com where you can claim a matched first deposit bonus of up to any amount you desire (no limit), a free $10 bonus without having to deposit any cash, along with a free slab of VB if you deposit $100 or more.
Also read: