Casino Barcelona
Casino Barcelona
Punters heading to Barcelona may be caught up in the tapas and sangria but once your belly is full you may want to head to a land-based casino, especially if your hotel or hostel's internet isn't great to play online. There's just one casino in Barcelona, Spain – offering an array of gambling facilities – known as Casino Barcelona.

Online casino alternatives in Spain
About Casino Barcelona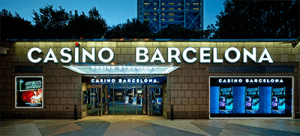 Casino Barcelona, managed by the Gran Casino de Barcelona, a subsidiary of the Perelada Group, is located just a few metres away from the long stretch of the beautiful man-made white sandy Barceloneta Beach – a rarity in Europe since most are laced with black sand or white pebbles – on Calle Marina 19-21. While the casino was established in 1978 it didn't take up its main resident in the basement of the Hotel Arts until 1998. Depending on the entry used – there's four available – you may be treated to unique water features which are a part of the Marina Village.
Upon entry, you will need to show ID to ensure you are over 18. If you're an international visitor you will need your passport, while European citizens can show a national ID, driver's license or passport.
The dress code allows for sportswear and can be quite casual, but sneakers, thongs/flip-flops, swimmers, and sleeveless undershirts, helmets and backpacks aren't allowed. There's also a free coat check service available.
You can get any foreign currency changed at the Casino Cashier too.
Games at Casino Barcelona
Once you're in the casino complex you are treated to over 7000 square metres of gaming space and while its small in comparison to what our casinos offer there's still pokies, table games and poker. Casino Barcelona also hosted the first stage of European Poker Tour in 2004 and has continued to host the event at one stage or another ever since.
The pokies room is open 24 hours a day, seven days a week, while the games room featuring the tables is open from 4pm to 5am.
Electronic gaming machines at Casino Barcelona

There's a huge range of electronic gaming machines including a range of pokies with multiple paylines, bonus features and more, as well as electronic table machines including electronic blackjack, roulette, poker, and video poker too. The screens are easy to use and the usual mechanical sounds of a pokies room can be heard here – irrespective of the language barrier.
Minimum bets for the pokies start at €0.01, while the electronic table games start at €0.20.
Table games with iPads

A cool feature Casino Barcelona has is the inclusion of iPads at its table games. Players can pick from French and American Roulette, Blackjack, and Mini Baccarat and place their cash on the table where an electronic account balance will be created, for the iPad situated at your seat/position of the table.
You can then choose your preferred language – English is available so you don't have to learn Spanish to communicate what you want, or rely on the gestures. Then the dealer guides the game as they would normally but you perform all your bets on the iPad which are connected to the table.
Once you're ready to cash out, tap the button and the dealer will give you a printed voucher which you can take to machines located around the casino to exchange for cash. This is an incredibly handy feature for international punters and makes cashing out quite easy.
American roulette starts at a minimum bet of €2.50 to €5, while French roulette starts at €5 and blackjack can be a minimum of €10, €20 or €50.
Casino Barcelona poker

Poker is by far the most popular casino game category at Casino Barcelona with an array of tournaments for every poker player.
There's poker buy-in tournaments including No Limit options, with some offering unlimited re-entries available. A popular mid-weekly poker tournament is the Catalunya Poker Tour and is held on the second Friday of each month.
You'll find two Texas Hold'em No Limit tournaments on the weekend too, and important global poker tours over the year including the World Heads Up Poker Championship Barcelona, The Spanish Championship, the World Poker Tour, and the European Poker Tour.
There's also regular poker tables with Texas Hold'em No Limit (blinds) starting at from €1 to €3, Omaha Pot Limit(blinds) starting from €5 to €10 and Stud Poker starting from €10.
Other amenities at Casino Barcelona
There's more to do at Casino Barcelona other than just play at the pokies or participate in table games.
Sports betting

There's plenty of action available for punters to get in on with over 20 different types of sports on offer, as well as horse racing and the dogs screened direct from Great Britain. Enjoy the betting facilities on offer and view their website for more information on how to make a bet.
Gastronomy
There's three restaurants available inside Casino Barcelona, which are very popular with European holiday makers, including a buffet open from Thursday through to Saturday from 9pm to 1am – the Spanish eat late. You can make a booking via their website for any of these restaurants.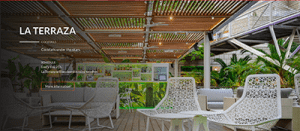 There's also four lounge/bar venues where you can enjoy cocktails and explore a wine cellar. You can even learn how to Salsa here too.
There's live entertainment always available and found at least one of the venues, and provided you keep your printed receipt when you entered the casino you can duck in and out and explore the marina or Port Olimpic in between gaming streaks.
There's also an online casino available to players situated in Europe – players outside of Europe can't access the site. We recommend Raging Bull Casino, which is our top-rated casino site for players from United States and has a huge range of online casino games to choose between.