Rules for live dealer Texas Hold'em
Rules for live dealer Texas Hold'em
Estimated reading time 5 minutes
Live poker variants aren't as common to come by as live blackjack, roulette and even live baccarat. This is perhaps due to the nature of most poker variants, where we play other players instead of the house. To combat this, live dealer specialists have created a variant which follows Texas Hold'em rules but you play against the dealer. This is known as Live Casino Hold'em.

Best casino sites for live dealer poker

This is my table
Our recommended casinos offer live poker variants following Texas Hold'em rules, except players verse the dealer – which we explain below.
Stream poker dealers live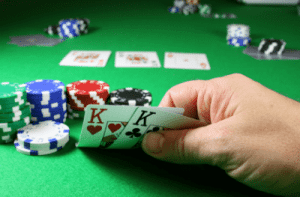 While poker rooms allow us to enter and play Texas Hold'em or other poker variants against players – with chat features to make it a sociable experience – we miss out on the land-based feel to the game.
Playing poker tournaments at brick and mortar casinos is incredibly fun, but it too lacks a social element due to the intense nature of the game format.
Live dealer poker on the other hand incorporates the social elements found in land-based casino gaming and makes the game of poker interesting with a dealer streamed in real time to our devices. The basic premise of our favourite poker game, in this case Texas Hold'em, is applied but we verse the dealer instead of the player and the tournament intensity some poker players may not want is removed.
This creates a whole new poker variant which you can't find in poker rooms online or off and all you have to do is register an account with one of the verified sites above, make a quick deposit and click on the live dealer category to get started.
The best part is many of the best software providers have each dabbled in their own version of live dealer Texas Hold'em.
Live Dealer Hold'em Poker software providers
Evolution Gaming
Evolution Gaming has two available tables – Live Casino Hold'em and Ultimate Texas Hold'em – both found at All Slots online casino".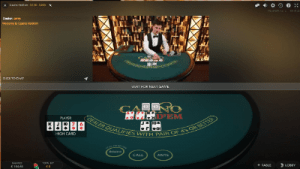 Live Casino Hold'em is a popular variant of the Texas Hold'em game where you can take a seat whenever you want with the table open 24/7 and unlimited seats available.
There's just one 52 card deck in play, with all jokers excluded, and to get started players need to wager on the Ante bet. You can place a side bet too known as the Bonus Bet – it can only be placed if you've made an Ante bet. You will win if a pair of Aces or higher is dealt in the first five cards.
Two cards face up are dealt by the dealer to you, and two cards face down are dealt to the dealer. Three community cards are dealt face up in the middle of the table for you and the dealer to make a hand.
Then you can choose to Call, where you will double your Ante bet, or Fold to end the round and forfeit your wager. The side bet isn't affected if you Call or Fold however.
If you Call, the dealer will then deal two more community cards, known as the Turn card and the River card, and reveal their two cards.
Players win with the best paying hands according to the payouts in the table – view by clicking the help button in the top right hand corner – with the top payout of a Royal Flush paying 100:1.
The table offers a minimum bet of $0.50 and a maximum of $5,000, while perfect play sees a 97.84% RTP for the Ante bet and 93.74% for the Bonus bet.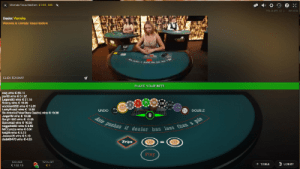 Ultimate Texas Hold'em is quite similar to the aforementioned live game, but there's a few notable differences. There's still unlimited seats and gameplay is the same with one standard deck.
Once you have placed your Ante bet a matching Blind bet is also placed by the system and the dealer gets two cards face down, while they deal you two cards face up. Then the three community cards are dealt upwards and after a pause where you can choose to Play or Check – similar to Call or Fold- the croupier deals the Turn and the River community cards.
You can make a side bet after your Ante bet too, known as the Trips bet which wins if your final five-card hand is three-of-a-kind or better.
Payouts can be viewed by clicking the '?' button in the top right hand corner with top payouts here of 500:1 available.
The minimum bet is $0.10 and the maximum bet is $1,000, while perfect play sees a RTP ranging between 96.50% for the bonus bet and 99.47% for the total main bet.
Microgaming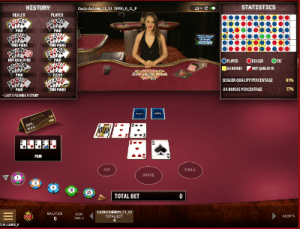 Microgaming offers a live Texas Hold'em variant and the Live Casino Hold'em title can be found at Royal Vegas Casino. While you can get dealers dressed as Playboy Bunnies for many of their live dealer games there's only the traditionally dressed dealer here.
There's three tables to choose from with varying table limits including $10 to $100, $30 to $300 and $50 to $500. The game is played with one standard deck of 52 cards with jokers removed and the title offers regular Texas Hold'em payouts and an additional side bet.
Players get started by placing their wager on the Ante spot and gameplay unfolds similarly to the Evolution Gaming version. The Bonus bet, known as the AA+ side bet can only be made with the Ante bet and pays if you get a hand with two Aces or better with payouts up to 100:1 for a Royal Flush.
Payouts are eligible to be viewed by clicking the three vertical lines and then the 'Help Centre' button with the highest payout for regular pays set at 100:1 for a Royal Flush.
You can also change the video feed between Game View, which offers additional game information, and Casino View, which provides the view of the dealer at the table for a land-based experience.
The theoretical RTP for this game is 97.84%.
Playtech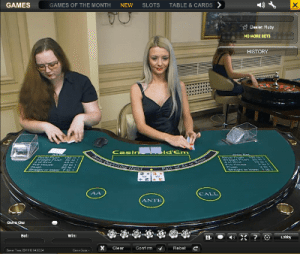 Finally, Playtech also offers a Live Casino Hold'em variant following the Texas Hold'em rules. Table limits for players who have only just signed up with a Playtech casino such as the reputable Casino.com is set at a minimum of $5 and a maximum of $50. But the bigger your deposit and the more you play the higher the limits you can gain access to.
The Playtech title is similar to Microgaming in gameplay and in terms of the AA+ side bet and offers the top payout of 100:1 for a Royal Flush for both the Ante bet and the side bet.
The theoretical RTP for this variant is 99.18%.
To play live dealer Casino Hold'em at a safe and reputable venue, we recommend All Slots internet casino where games are available for instant-play, and new players can take advantage of up to $1600 in bonus money spread out over your first four real money deposits.