Pontoon rule differences with blackjack
Pontoon rule differences with blackjack
Estimated reading time 4 minutes
One of the most popular blackjack variants available online and off is Pontoon. Not only do rule differences occur between Pontoon and Blackjack but they occur online and at land-based casinos.

Best online casinos to play pontoon
The online variant and the land-based title in Australia are completely different and we outline the rule variances between each other and the game of traditional blackjack.
Online pontoon rule differences with real money 21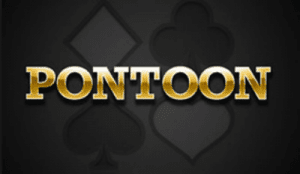 Online Pontoon is based on rules found on the game considered to be a predecessor to the traditional version of 21 we play at secure web casinos today.
Our favourite software developers, including Microgaming, NetEnt, and Playtech, have all developed a title to pay homage to the game and while it looks similar to a game of 21, there's quite a few rule differences.
While similarities include the aim – to have a hand higher than the dealer's without exceeding 21 -, the eight decks of 52 cards in play, and the value of each card, the terms and rules are different.
There's no upcard in a game of Pontoon and to Hit is to Twist, to Stick is to Stand, and to Buy is to Double Down – terms which give blackjack players a new vocabulary.
To receive a Pontoon, you need an Ace and any 10 value card – which is what a Blackjack is – but it generally pays a more desirable payout of 2:1 instead of 3:2, as Blackjack does.
Another Pontoon rule difference is known as the "5-card trick." This sees players winning with five cards if the total hasn't amounted to a bust and pays 2:1. Players win irrespective of the amount however, if the dealer has Pontoon it will beat the 5-card trick.
All other payouts see 1:1 wins, while ties lose.
Players can only Stick if they have a hand amounting to 15 or they have a five card hand, and can Twist at any point, as well as after Buying.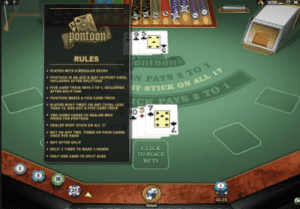 Additionally, similar to the Peek rule in blackjack, the dealer checks their cards to see if they have Pontoon. If so, their hand is revealed immediately and players lose.
Other rules which are similar include a 22 or more hand counting as a bust, players can Split (and Re-Split to make up to three hands), and the dealer has to Twist on soft 17.
Online Pontoon variants and table limits
There's a wide variety of online Pontoon variants available online, but we detail the best below.
Pontoon Pro Created by Net Entertainment, players can bet on up to three hands at once with table limits including $0.10 to $5, $1 to $40, and $25 to $500. You can find this variant at Slots Million online casino.
Blackjack Pontoon Created by Playtech, players can bet on up to five hands in one round, with a minimum of $0.50 and maximum of $50 available in both practice and real play. Tables with a minimum of $1 and maximum of $100, and a minimum of $5 and a maximum of $500 are available once logged in for real money play. Additionally, this variant doesn't use the standard online pontoon terms – blackjack vocabulary is used instead. You can locate this title at Casino.com.
Pontoon Gold Developed by Microgaming, this title is only available on the downloadable platform and therefore Mac users miss out. Up to five hands can be played with a minimum of $1 and a maximum of $200 found at the tables. Head to Royal Vegas Casino to install the casino client and play Microgaming's Pontoon.
Land-based Pontoon in Australia
Pontoon at land-based casinos in Australia shouldn't be confused with the online variant. It is actually akin to Spanish 21 which you can also find online and in land-based casinos in North America.
Pontoon in Australian casinos sees four to eight Spanish decks – the four 10 cards are removed to create a 48 card deck – and follows Spanish 21 rules. Since the removal of the four 10s is disadvantageous to the player, amendments to blackjack gameplay has been altered to make up for it.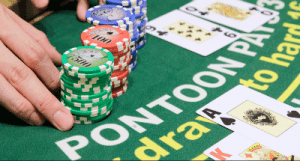 These rules include players with 21 or Blackjack wins instantly, players can Surrender after Doubling – which is known as Double Down Rescue – and there's an array of bonus payouts too. A five card hand totalling 21 pays 3:2, a six card hand valued 21 pays 2:1, and a seven card hand, or more, totalling 21 pays 3:1. These don't apply if the player Doubled Down however.
Additionally, the dealer has to hit on Soft 17s, Double after Splitting is available, the dealer doesn't take the hole card, and players can take 'Late Surrender.'
Australia variations of Pontoon
You will no doubt be able to find Pontoon all over Australia at the popular land-based casinos. Most Aussie brick and mortar casinos refer to the variant as Pontoon and you can find a huge range of table limits, but generally low limits are offered.
However, Tasmanian casinos title their variant Federal Pontoon, while Queensland casinos also have unique names. The Treasury Casino in Brisbane calls it Treasury 21, Jupiters Casino in Queensland calls it Jupiters 21, and The Reef Casino in Cairns calls it Paradise Pontoon. You can find these titles on the main gaming floor at their respective casino.
These variants still sees the same rule variations from blackjack including a player's Pontoon beats a dealer's Pontoon which is paid immediately.
You can try multiple variations of real money blackjack online, including pontoon, at our top-rated blackjack sites listed in the table above. We recommend Raging Bull Casino as our top-rated casino site for players from United States, which requires no downloads to play.