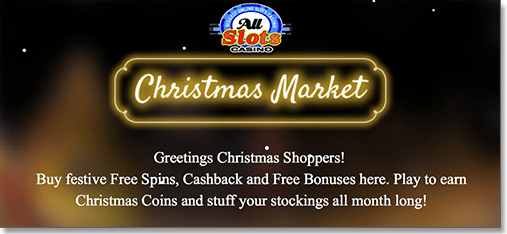 Christmas is only a few weeks away and All Slots Casino is already in the festive spirit with their Christmas Market promotion, where you can win a share of $25,000.
Running up until Christmas Day, players can earn Christmas coins to buy free spins, bonuses, and even cashback at the Christmas Market. But the main lure is the chance of bagging one of the major cash prizes in the Christmas Draw.
One loyalty point is equivalent to one Christmas coin so you are only limited to what you can purchase at the market by how much you play (see below on how to earn loyalty points).
Once you've earned enough loyalty points you can head to www.AllSlotsCasino.com and click on the promotions page, and then on the Christmas Market promotion link. Here, enter your username and then on 'Go to Market' to view what's for sale and make a purchase.
The following bonuses are available at the following prices;
Free spins
Five free spins ($2.50) for 250 coins
10 free spins ($20) for 1000 coins
15 free spins ($75) for 4000 coins
The Free Spins are only available on Avalon, Bridesmaids, Immortal Romance, Secret Santa, and Santa's Wild Ride.
Free bonus
$5 free bonus for 500 coins
$20 free bonus for 1000 coins
$75 free bonus for 4000 coins
Cashback bonus
20% bonus of up to $5 for 400 coins
20% bonus of up to $25 for 1200 coins
20% bonus of up to $100 for 5000 coins
Players can only buy one cashback bonus per deposit and it must be purchased before you make that deposit.
It is important to note, every time you purchase a bonus your loyalty points will be depleted, but it will not affect your loyalty tier if you are a regular player. Additionally, any pre-existing loyalty points count towards your coin balance, and any game you play and earn loyalty points on from now up until December 25 contribute too.
You can view your coin balance at the top of the page, and will be updated 15 minutes after you buy a bonus.
Boxing Day $25,000 draw
For every bonus you purchase at the market, you will earn a ticket into the Boxing Day draw, which takes place on December 26. The more bonuses you buy the more tickets you will earn.
The draw could see anywhere up to 1000 players win a share of $25,000, as follows;
Five winners – $1000
10 winners – $500
25 winners – $100
50 winners – $50
100 winners – $25
250 winners – $10
1000 winners – $5
All Slots loyalty points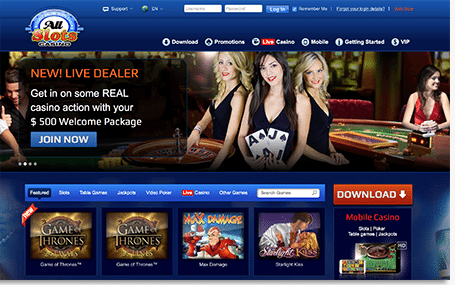 To earn Christmas coins you need to earn loyalty points, as one loyalty point equals one Christmas coin.
You can easily accrue loyalty points simply by playing real money titles at All Slots Casino. You can earn one loyalty point by wagering the following amounts on the following Microgaming games.
Playthrough $10 on pokies, American Roulette, and/or Parlour Games to earn one point
Playthrough $20 on table poker games (excluding Gold Series Table Poker games), Casino War and/or Sicbo to earn one point
Playthrough $100 on video poker games, Gold Series table poker games, craps, baccarat, blackjack (excluding Classic Blackjack), and/or roulette (excluding American Roulette) to earn one point
Playthrough $500 on Classic Blackjack, and/or all Aces Video/Power Poker to earn one point
If you want to earn points/coins fast, we recommend playing the pokies, American roulette or any Palour titles.
So head to the market before December 25 and enjoy a bonus this Christmas, and a potential share of $25,000.
On top of this fantastic Christmas promotion, All Slots Casino give all new customers up to $1600 in matched deposits – one of the most generous offers on the web.