Why is it hard to find craps in land based casinos?
Why is it hard to find craps in land based casinos?
Craps is one of the most enjoyable and sociable games inside a casino and holds some of the best odds for the player, but many people shy away from the craps table because it often looks intimidating with surrounding players shouting and screaming, and the game itself can appear complex with so many different betting options.
However, on closer inspection, craps is not a hard game to learn, and after reading over the basic rules, it becomes apparent this game is certainly worthwhile playing at least once with your mates.

Where to play online Craps for real money
Where to play Craps for real money
Craps tables in Australian casinos are not that easy to find. The casinos which do host craps tables often limit the table's opening hours to weekends. Below is a list of the most popular casinos Down Under and whether or not they provide the game of craps to their patrons.
Adelaide Casino – no craps gaming tables
Casino Canberra – no craps
Crown Casino Perth – no craps tables
Crown Casino Melbourne – one craps table in the Las Vegas Poker Room (runs if enough players show interest).
Jupiters Hotel and Casino (Gold Coast) – one craps table
Lasseters Hotel Casino (Alice Springs) – one craps table only open on weekends
Reef Hotel Casino (Cairns) – no craps table (not cost efficient to host one, due to lack of interest).
Star Casino (Sydney) – two craps table, one open during the week, and two open on weekends.
Skycity Darwin – no tables
Treasury Hotel and Casino in Brisbane – one table, open from Wednesday to Sunday
Wrest Point Hotel Casino – no craps gaming tables
There are suggestions that casinos do not host craps table because the odds favour the player too much (not a high enough house edge), however this is not true. While craps does offer some of the best odds for the punter, the availability of tables in Melbourne Crown Casino, Jupiters, Lasseters, the Star and the Treasury Casino show venues aren't too concerned about the lower house edge.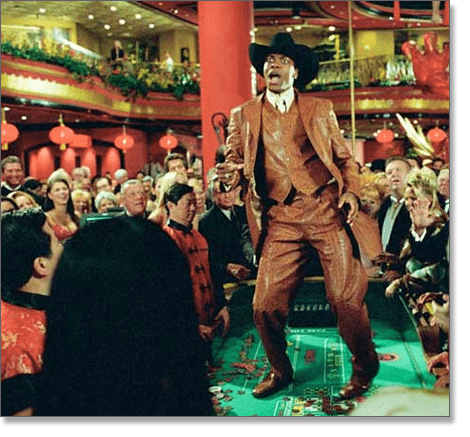 The main concern is the popularity of the game. Having spoken with gaming floor managers from all the above Australian casinos, many cited a lack of interest as to why they either don't have a craps table at all, or why they limit the opening hours of their tables so the game can only be played during the casino's most busy period.
It's a shame the game is not as popular in Australia as it is in casinos across the United States, because with a basic understanding of how to play, craps dishes up a heap of excitement for all those involved – you've seen Chris Tucker in his prime pump up the craps crowd and bust out some dance moves on the table (although we don't recommend jumping on the table).
Again, the lack of interest or no desire to play stems from a lack of understanding about how to play the game, and an assumption the game is more complicated than it really is. For anyone whom wishes to learn how to play, we recommend browsing over the craps rules here and also playing online for real money first, to get used to how the different bets are played. Taking and laying odds – two wagers we can make during a round of craps – hold no house edge; why wouldn't you play a game where the player is just as likely to win as the casino!?
Craps fans can play craps online for real money at the following Internet casinos:
Melbourne's Crown Casino was the latest gaming establishment to introduce craps to its gaming floor, and the game has seen a rise in popularity. As more and more players welcome the game and become familiar with the rules, we hope to see more tables introduced at land-based casino around the country which and staying open for longer periods of time, so Australians can enjoy what is one of the best casino games to actually play inside the walls of a brick and mortar gambling venue.