Estimated reading time 2 minutes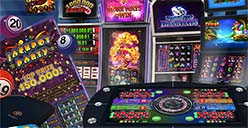 Scientific Games, a New York-listed lottery and gaming supplies in collaboration with Carnival Corporation, which currently the largest leisure travel company, has launched the Monopoly Cruise for Cash promotion.
The multi-channel Monopoly Cruise for Cash promotion is to mark the 20th anniversary of the Monopoly-branded slots.
Players are allowed to compete in the qualifying events of the Monopoly slot tournament that are online, land-based and cruise ship based for the USD $200,000 reward.
The group launched the promotion to celebrate Scientific Games partnership with Hasbro, the owner of the Monopoly brand. The Monopoly brand has been in existence for more than 20 years and in this period Scientific Games has developed 80 land-based slots.
The executive vice president and group chief executive of gaming for Scientific Games said the opportunity to work with such an iconic brand was too good to be true.
"We are tremendously excited to be celebrating our long-standing relationship with Hasbro and Monopoly with a promotion that includes both our land-based and online gaming players," he said.
Senior vice president of digital gaming and development at Hasbro Mark Blecher said the Monopoly brand was one of excellence and thanked Scientific Games for a fruitful partnership.
"In its 80-year history, Monopoly has been played by more than one billion people in 114 countries around the world," he said.
"Drawing upon this widespread popularity, we have delivered Monopoly experiences to fit every interest including promotions, fashion and digital gaming.
"We are excited to celebrate the success of our long-time relationship with Scientific Games and bring even more Monopoly experiences to fans with the Monopoly Cruise for Cash promotion."
With this collaboration with Scientific Games, Carnival Corporation has succeeded in becoming the first to have the Monopoly Millionaire, one of the latest land-based slots titles developed around the brand.
"As one of the largest and most diverse gaming companies in the world, Scientific Games is an incredibly valuable partner to us, especially when it comes to promotions like Monopoly Cruise for Cash," Princess Cruises Vice President of Business Development Anil Mansukhani said.
"Their vast reach into slot players of all types, along with their access to such a prestigious brand as Monopoly, is immeasurable and we are proud to work with them on this exciting promotion."
The Regal Princess, a cruise ship owned by Princess Cruises a subsidiary of Carnival Corporation will host this event on December 9, 2018. To ensure its success Scientific Games has the special slot tournament format for the qualifying rounds and the final tournament.