Geo-blocked online casinos
Geo-blocked online casinos
Estimated reading time 4 minutes
The web has removed the big bodies of water between nations and allowed us to become one in every aspect of life – entertainment, politics and of course, gaming. But since every nation has its own laws and views on gambling things can get a little blurry. Enter geo-blocking – the answer to remind us the bodies of water still exist.
We look at what this means and why players from certain countries seem to face the brunt of it, especially when it comes to online casino games.
Geo-blocking in online casino gaming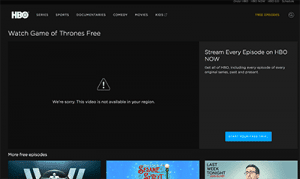 Geo-blocking is based on your IP address, which every computer on the web has. Each time you go to a website your IP address is sent and this determines your geographical location. There's databases which exist to determine which countries can access the content and which cannot. For the purposes of this article, we use Australia and its gambling laws as an example to help readers understand how casino geo-blocks work.
The simplest way to explain Geo-blocking or region-blocking is it is the restriction of online content due to the user's geographical location. For example, if you're based in Australia and head to a US website, such as a network site like HBO and try to watch a video on their page (the latest Game of Thrones episode) it will come up with a message along the lines of "this video is not available in your region."
When it comes to forms of entertainment, networks have copyright agreements which require them to limit geographic regions. When it comes to online casino games, software providers are more dependent on the legalities of the region.
The Australian government hasn't taken the time to consider online gambling in the way it did for land-based gaming and quickly imposed legislation to prevent it rather than properly regulate it. The laws, in summary, state it is illegal for an online casino to operate within Australia but there's nothing stopping players from accessing casino games located overseas, with no penalties in place for players. This is what we do since there are a selection of Internet casinos, as listed in the table above, which are licensed by an advanced gaming jurisdiction and have a history of acting in a responsible manner. We can play safe casino games including blackjack, roulette, baccarat, poker, the pokies and other titles safely with real money online despite these sites being located overseas.
But as the laws become tighter, geo-blocking by software providers is becoming more common and Australians are the targets.
Why are Australians geo-blocked?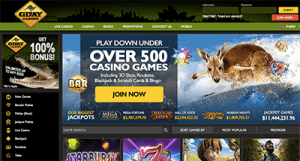 The Interactive Gaming Act 2001 has been Australia's one piece of legislation which has prevented Australian online casinos operating here. There's no law which prevents us from playing offshore, as mentioned above, but it is changing.
Unfortunately, the government still hasn't taken the time to review the policies in place at reputable casinos, including the option to impose time limits while gaming, and instead groups rogue operators which have irresponsible gaming protocols with the reputable ones. This has resulted in the Interactive Gambling Amendment Bill 2016, which states online casinos need a local license. This isn't possible as it is already illegal for Australian casinos to operate and attract Australian players, but this Act still doesn't make it illegal for players to play at these sites – just for the online casinos located overseas to offer their services.
Since there won't be that many consequences imposed due to the international location of these sites, casinos will continue to accept Australians. But many will be notified they've breached the Act and this could result in the casinos and the software providers blocking Australians.
This legislation hasn't been implemented yet and online casinos hosted outside Australia which accept Australians is and still will be legal for the individual player to wager at.
The problem is whether the casino or software developer will geo-block the player.
Casinos and software developers geo-blocking Australians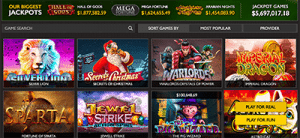 Sometimes you will notice if you've been geo-blocked – a message will appear saying the content isn't available in your region – while other times the casino game will just disappear without a trace. If you've been playing a game for a while and can no longer locate it, this is most likely due to being geo-blocked.
Net Entertainment withdrew their huge progressives, including millionaire maker Mega Fortune, in 2016 and while you can still see their jackpot amounts on some online casinos, such as G'day, Australian's can't locate the games.
Leo Vegas then announced it was withdrawing its entire casino from the Australian market in late 2016 – Aussies can no longer play here.
PokerStars is next in line as it considers pulling out of the Australian market, with the company stating it will block Aussies if the Australian government do implement the IGA Amendment Bill 2016. So while PokerStars will still be available worldwide, Australians will be blocked from accessing the site based on their geographical location.
Playtech has been on off in terms of region blocking Australians, but fortunately Aussie players can access a huge range of licensed pokies at Casino.com.
Is there a way around geo-blocking?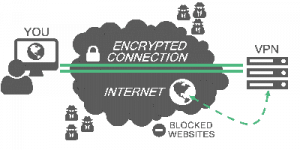 Fortunately, there are ways around geo-blocking if you want to play the casino games which have blocked Australians. There's quite a few options but the most common is a Virtual Private Network (VPN).
VPNs trick the sites into thinking you are in another region, such as the UK, and encrypt all your Internet traffic via an overseas server. The added bonus here is the privacy factor, but the drawback is it can slow down your Internet speed. Most reputable VPNs cost a small fee – but it is worthwhile since you gain access to extra games.
While VPNs are frowned upon, they are completely legal for an Australian player to access – but if you're playing NetEnt's Mega Fortune and win millions, you might struggle to explain your location.
A top online casino which doesn't block players from United States is Raging Bull Casino, our top rated casino site for players from your region. Play directly over your Web browser and get instant access to hundreds of exciting online casino games to play for free or real money bets.