Rogue online casinos
Rogue online casinos
Estimated reading time 4 minutes
Online casinos have one of two reputations – either they are secure and ensure player protection is at the forefront, or they are there to steal your money. There are a number of online casinos in the latter category unfortunately, and these are known as rogue casinos.

Leading online casino sites you can trust
We take a look at what constitutes a rogue online casino and how you can be sure to avoid them.
What is a rogue Internet casino?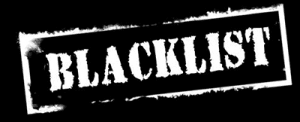 A rogue online casino is one which has been set up to primarily scam you. However poor customer service, a lack of player satisfaction and real player complaints can also see an Internet casino blacklisted.
By avoiding casinos which have been blacklisted you are ensuring you are only getting the best when using your real money to play online casino games.
An online casino which is blacklisted usually falls under one or more of the following categories;
Doesn't payout: An online casino is instantly flagged if there are records it hasn't paid a customer. If this occurs more than once without a resolution then the online casino is blacklisted.
RNG software has been manipulated: Since many players are playing the same games at an online casino their reviews count. If multiple players start noticing they aren't winning as regularly as they should be on a game then the game will be flagged. If it isn't the software provider, the online operator will be investigated for manipulating the RNG software and be blacklisted.
Poor customer service: Customer service is incredibly important when we are playing online. Since we don't have the hands on help we can get at a land-based casino, we need 24 hour support via the web or phone. If an online casino doesn't respond to players, ignores complaints, or doesn't try to solve issues it will be reported as rogue.
Questionable gambling practices: Casinos which don't implement security protocols, such as encryption technology, and don't have responsible gambling policies are instantly deemed rogue.
How can I tell if an online casino is rogue?

A simple Google search with the name of the online casino and the term 'rogue' or 'blacklisted' will return enough information required to determine if the web casino is bad, provided it has been around long enough.
However, some online casinos can pop up and have little to no information about them. You can either keep an eye out for the padlock in your URL bar, the advanced gaming jurisdiction logos on the casino's homepage, and read their policies and terms and conditions, or you can play at one of the online casino listed above. Each have been extensively reviewed and determined as secure.
To confirm this, click on one of the links and head to the online casino. Here you will notice the padlock in the URL bar which we were talking about above. This means the operators implement encryption technology to protect any data, such as personal or financial information, you may enter.
Additionally, scroll to the bottom of the online casino's homepage and you will notice a logo such as MGA certification, or the eCOGRA seal of approval, or other gaming authorities logos. These logos indicate the online casino is regulated by a third party and therefore adheres to strict gaming criteria which protects players. Not every gaming authority is the same, but you can read more about that here. All of our recommended online casinos are regulated by the top governing agencies.
Rogue Internet casinos
We have found a few examples of online casinos which have been blacklisted due to their questionable gambling operations.
Avoid these sites at all costs, and if you aren't planning on playing at the secure sites listed above, do your research or you can leave yourself open to being scammed.
Breakaway casino – payment issues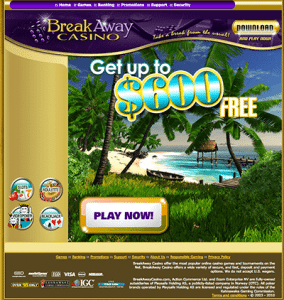 Breakaway online casino has been blacklisted due to payment problems. A simple Google search on our own accord revealed players not receiving timely payouts and warnings which advise against playing at the online casino.
Avoid being a victim of this issue by playing at House of Jack which offers instant withdrawals if you use Neteller or Skrill and has hundreds of positive player payment reviews.
Lady Dream Casino – rigged RNG games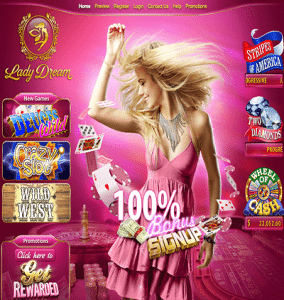 The online casino was flagged for offering deceptive free games where players would win way more regularly then the software reportedly pays out. This preys on vulnerable players who would think the games payout this much in real money mode, and therefore players will waste their wagers on the games.
Do your research on the payout rates at online casinos, which you can find in the table above, and be sure not to get tricked by games which are paying out a suspicious amount.
Grand Reef Casino – false advertising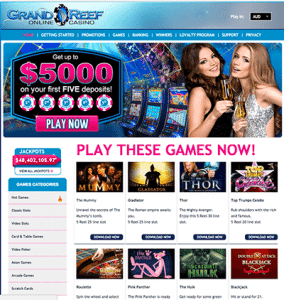 Grand Reef Casino has been blacklisted for a number of reasons, predominantly due to false advertising trapping players and forcing them to contact support.
Many players have reported issues with the team behind the support management, including rude responses and even being called a liar when they've challenged them about their advertised terms and conditions.
The site has also been blacklisted for keeping a player's jackpot winnings.
Stick to recommended secure casino sites such as Raging Bull Casino, our top-rated casino site for players from United States, which is governed to ensure you aren't subjected to any rogue activity.