Encryption technology in online casinos
Encryption technology in online casinos
Estimated reading time 3 minutes
Security is paramount when playing real money casino games online as we are entering personal details and financial information. This is why you should only ever play at verified Internet casinos as they implement encryption technology to protect this data.

Safest online casino websites
We take a look at this technology and how it works to ensure you are protected when playing blackjack, pokies, or other top casino games via your web browser.
Flash casino security
Now that most online casinos are available on the flash platform – no download is required – players are using their web browsers to sign up to online casinos and make deposits and withdrawals.
Prior to instant play casinos, players were required to install the gaming client to their desktop. This however meant there was no chance third parties could hack in and steal information, but if you didn't download a casino client from a reputable site you were subjecting yourself to downloading viruses.
Along came flash casinos in order to address the Apple market and now the majority of players access casinos through their web browser. There are a number of downloadable casino clients still available, including from some of our top online casinos such as Royal Vegas Casino, All Slots Casino, 7Sultans Casino, and Platinum Play, but all also offer the web play option too.
Accessing casinos and games with our browser has seen a different security issue due to the connection made between the casino and the browser. When entering our information online via our web browser we need to be protected, and this is done by top casinos implementing encryption technology.
What is online casino encryption technology?
When we enter our personal information, such as our names and birthdays, when signing up for a web casino, or our card details when making a deposit we are entering sensitive data online. This data needs to be protected otherwise third parties can hack into the site you are entering these details at and steal them – ultimately stealing your identity and/or finances.
Online casinos which care about their players don't allow this to happen and as such the top sites implement encryption technology which is the same used by major financial institutions.
The encryption technology works with your browser to create a secure key and locks and protects your details. All of the online casinos listed in the table above use this technology and can be verified via the padlock in your URL bar.
To see what we mean, head to one of the aforementioned online casinos  and click on the padlock. From here click on 'details' under 'connection is private' and here you can view the 'Security Overview'. This will show the online casino's security protocols, which we explain below.
Internet casino's encryption and HTTPS details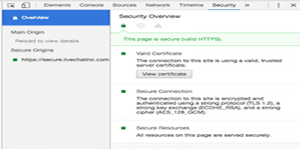 When viewing the security overview of the online casino you will notice it says it uses a strong protocol and a valid HTTPS. This may not mean much to you, but these features are incredibly important when it comes to player protection.
Security encryption protocols: The top two encryption forms found at major online banking sites and all our recommended online casinos include Secure Sockets Layer (SSL) and Transport Layer Security (TLS). For example when viewing the security details of House of Jack the connection "is encrypted and authenticated using a strong protocol (TLS 1.2)". These forms of technology are the latest available and any information entered can only be decrypted using a key which can only be cracked after guessing well over 300 trillion combinations – third parties and hackers therefore can't gain access to this information.
HTTPS: Hypertext Transfer Protocol Secure (HTTPS) is how your browser, including Safari, Chrome, and Firefox work via a secure connection. It works with the encryption technology to ensure your details are protected and your information remains private.
These two features ensure online casino gaming is incredibly secure – and all of our recommended online casinos implement the security protocols to make sure you're safe while being entertained by the huge range of casino games.
Online casino security tips

Our number one rule to gaming online is to only play at web casinos which feature encryption technology. You can ensure you are playing at these sites via the padlock in the URL bar.
If you have chosen to play at another online casino which isn't listed in the table above and see there's no padlock then you are leaving yourself vulnerable to third party hackers. You're also leaving yourself open to being scammed by the online casino itself due to the lack of security in place.
Another tip is to ensure the online casino is governed by a third party regulator such as the Malta Gaming Authority as it ensures the security protocols have been reviewed and confirmed to be on par with major bank standards.
The casinos we recommend are all governed by advanced gaming jurisdictions which have confirmed the encryption technology in place, ensuring we are 100% safe when gaming online. Raging Bull Casino gets our top vote for players from United States, which is protected by 128 Bit SSL security and has regulations in place to protect players.