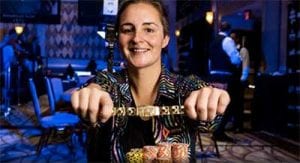 Former aged-care and disability worker Heidi May has become the second Australian woman to win a gold bracelet at the World Series of Poker (WSOP) 2017.
May, who learned to play poker when she was 18, took out the $10,000 Ladies No-Limit Hold'em Championship landing her the biggest pay packet she has ever received – $US135,098 ($AUD177,532.28).
The win takes her to more than $USD170,000 ($AUD223,155.68) in total poker winnings.
The Hobart-based poker pro beat 717 other female poker players at the Rio All Suite Hotel and Casino in Las Vegas on July 9.
The 27-year-old only turned to professional poker four years ago and mainly sticks to high stakes cash games and online tournaments. Only recently has she taken a liking to live tournaments.
The new format has paid off with the six figure win her biggest. Prior to WSOP, her personal best was a $USD32,000 ($AUD42,005.78) win in an online tournament.
It's also a huge leap from last year's result where she finished 617th in the WSOP 2016 Main Event, winning $USD18,714 ($AUD24,565.50).
"I think the other tournaments, I got kind of unlucky. I just got 'coolered' a lot," May said to the media after the event.
"It feels really good to finally close one out, especially after having a few deep runs and not closing"
May is referring to the five other WSOP events she has participated in this year, including the $1500 No Limit Hold'em where she came 28th and won $9,683.
She is the second Australian woman to win a coveted gold bracelet – Jackie Glazier was the first in 2013 – which are reserved for specific events during the annual WSOP tournament.

May revealed the ladies-only championship was more relaxed than a male-dominated game.
"It's a bit more recreational than when you come to a tournament and it's all these guys that stare you down with hoodies and stuff," she said.
However, she added she feels "a bit indifferent" to the issue of women in poker.
May won the gold bracelet and the six figure prize pool when she beat Deborah "Debs the Destroyer" Worley-Roberts.
Worley-Roberts went all in for her last 20 big blinds in the final hand, while May snap-called.
Worley-Roberts held K of Diamonds and J of Spades and May had pocket tens in a coin flip scenario. May flopped a full house which was made up of 10 of Diamonds, 2 of Diamonds, 2 of Clubs, 6 of Spades, and 3 of Hearts, while Worley-Roberts found herself drawing dead following the turn.
Worley-Roberts, who had a supportive rail and received constant cheering during gameplay, came in second which earned her $USD83,459 ($AUD109,583.78).
May was wearing a multi-coloured disco shirt during her win which she explained is her house shirt.
"Every time someone makes a final table we wear it," she explained.
"We've already had four final tables wearing this shirt."
One appearance was by WSOP 2012 and 2013 bracelet winner Michael Gathy. However, May is the first to win a bracelet wearing the shirt.
May's house has also won a number of events at the Aussie Millions tournament in Melbourne.