Estimated reading time 2 minutes
KISS has teamed up with Kaw Nation to make yet another foray into the Native American casino industry.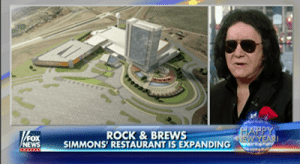 Two prominent members from one of the world's biggest rock band, Gene Simmons and Paul Stanley, are bringing their Rock and Brews restaurant to a brand-new casino set for Braman.
The project has been made possible with a partnership between the Native American tribe Kaw Nation and is set to be located about 24km south of the Kansas state line.
The first time the pair entered the casino industry was when their Rock and Brews restaurant was opened in the San Manuel Indian Bingo and Casino near San Bernardino, California. This will be their second foray into the casino industry but this new gambling project will be more directly associated with the KISS franchised restaurant, named the Rock and Brew Casino Resort.
The Rock and Brews concept was born in 2010 and there's over 12 restaurants located all around America, offering comfort food, a range of international and craft beers all intertwined with high quality entertainment with live music.
Tribal chairwoman Jacque Secondine Hensley said this partnership will attract a huge following, as the Kaw Nation oversees around 3500 Kanza people who live mostly in Oklahoma.
"This partnership with Rock & Brews will provide the Kaw Nation with the opportunity to again be the prime gaming and entertainment destination in our market," she said.
Additional details on the agreement is set to be announced on January 12, alongside partners Michael Zislis and brothers Dave and Dell Furano, but Gene Simmons promised FOX News on December 30, it will be something big.
"We're going to really ramp it up and give everybody bang for their buck," Simmons said.
An artist's impression sees a skyscraper and two L-shaped buildings which has led to reports it will be quite an impressive project set to show the entertaining concept behind the Rock and Brew restaurants.
The new gambling KISS resort will be located near the tribe's Kanza Travel Plaza and will have a lot of competition with casinos located across the state, despite the Kaw Nation the only tribe to open casinos under the two-part determination section of the Indian Gaming Regulatory Act.
This is the second gambling project for the Kaw Nation, with the first being the Southwind Casino in Newkirk. The tribe also runs petrol stations, retail outlets, tobacco stores and ice houses and is in the process of creating a renewable wind energy facility.
What about online casinos for USA players?
As awesome as KISS is (or horrible, depending on your old school rock preferences) the convenience of online casinos beats driving out all the way to Braman. If you're visiting us from United States, we highly recommend checking out Raging Bull Casino if you're interested in playing your favourite online slots and table games on desktop or mobile.