Estimated reading time 2 minutes
Japan is gearing up to be the next big gaming powerhouse and to ease public anxiety the government is preparing a bill to prevent the harmful effects of gambling addiction.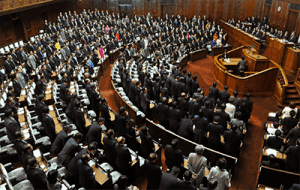 Casino gambling is illegal in Japan but following the approval of the contentious Bill Promoting Implementation of Specified Integrated Resort Areas (or the IR bill) last December, the ban set to be lifted.
According to the Japan Times, the Abe government is reportedly preparing legislation which will require all associated gambling operators, including local governments, to draw up strategies for tougher gambling regulations, with plans to submit the bill to the Diet early this year.
Interestingly, pachinko machines are also said to be included in the addiction prevention bill, along with horse racing too, which is currently legal to wager on in Japan.
This comes after public opinion polls have shown strong apprehension in regards to lifting the casino ban due to the harmful effects of gambling addiction. With pachinko machines a controversial form of gaming in Japan, many families have already been subject to the harms of addiction.
The Abe government is hoping to ease this anxiety with these addiction prevention measures, which could include gambling venue bans for suspected addicts following family requests, and online betting restrictions for horse racing.
The IR bill has been proposed before, notably to the Diet in 2014 but due to political members being caught up in a scandal the Lower House was dissolved and the bill was dismissed.
Now the bill has passed, following the approval by the Upper House in the last Diet session, Japan has been given a year to draw up supplementing legislation to detail the inner workings of the casino regulation. This will include the number of casino licenses and the criteria operators will need to meet to win a license.
Competition will be heated for these licenses, with many international casino operators eagerly awaiting the casino ban lift. James Packer is among them, with the Crown casino mogul long expressing his wishes to operate a casino in Japan.
But due to the recent arrests in China due to Crown staff attempting to attract Chinese players to Australia, Crown has pulled back on its international projects, focusing on deals closer to home.
However, this could change since the first legal casino in Japan isn't expected to open its doors until 2022 at the earliest, despite the Olympics taking place in Tokyo in 2020.
Online casinos for Japanese players
The top Japanese online casino sites allow players to set personal limits that ensure you only bet with an amount you are comfortable with spending within a certain time frame, and abide by fair and responsible gambling practices.
If you are a reader visiting us from United States, we highly recommend Raging Bull Casino as one such casino site which fits the description above, and is well known for its reputable licensing, stringent regulation and high-quality real money games catalogue.