Estimated reading time 2 minutes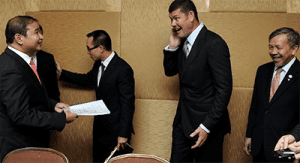 James Packer's hopes for a casino in Japan have been reignited with the bill to legalise gambling resorts set to pass Japanese parliament today.
Following the introduction of the bill to a lower house committee last week, a major parliamentary panel came together on Tuesday to approve the legislation. It is now expected the casino ban in Japan will be lifted by the full Upper House on the last day of this Parliamentary session.
The bill, which has strong support from Japan's Prime Minister, Shinzo Abe, would legalise casinos in the country if approved. As a result Packer's plans to recover Crown's global reach in the Asian region could commence. Crown has recently taken a global beating with mainland China cracking down on gambling activities, as well as the recent ATM capped limits in Macau and this legislative move may position the company back as a strong international competitor.
Crown's executive Vice President of strategy and development, Todd Nisbett, revealed to The Australian in late 2015 the most active long-term proposition for the company was to build a resort in Japan.
While the bill is likely to pass, criticism has been quite vocal from both the ruling coalition and opposition parties. The main opposition Democratic Party has even tried to stall the bill with beliefs it will contribute to addiction and organised crime. Critics have been quick to mirror these concerns.
"Whether casinos will be a plus or not for society is not only a question of making money," Masaaki Machida, of gambling addiction support group Hopehill, said.
"Costs for treating, imprisoning, or hospitalising (addicts) would be a spiritual, economic and social loss for Japan."
Horse, boat and bicycle racing is currently legal to wager on in Japan and despite the grey area, the pinball-like game of pachinko, is eligible to gamble on too.
Regardless, 44 per cent of the public who voted in a survey published by NHK were against the approval of casino gambling and only 12 per cent were in favour of the bill – the rest were undecided.
If the bill does pass, a second piece of legislation will need to be submitted with the full details of each casino, along with the regulation details and location.
It has been suggested Tokyo, Yokohama and Osaka will be the first destinations to see a casino erected, but none will likely open their doors in time for the 2020 Tokyo Olympics.
Best online casinos for your region
TopOnlineCasinoSites compiles the latest gambling news from all around the world and reviews the top recommended online casino sites licensed and regulated in world-class iGaming markets. For our readers visiting us from United States, we highly recommend signing up to Raging Bull Casino and claiming their new player welcome bonus to enjoy their hundreds of online real money casino games with a head-start in cash and free spins.