Estimated reading time 4 minutes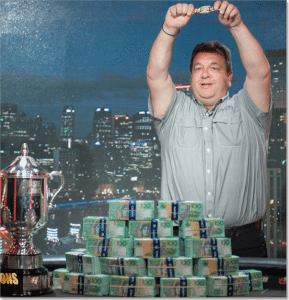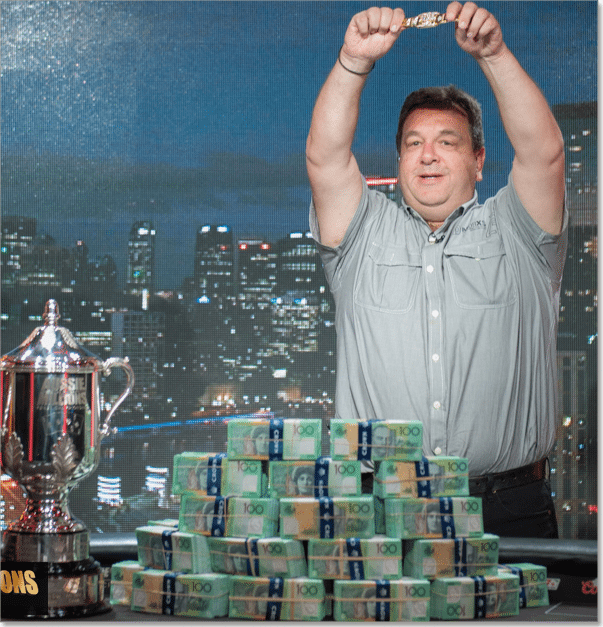 Asia-Pacific's longest-running poker tournament has crowned the 2015 winner of the coveted Aussie Millions Main Event, with local poker hero Manny Stavropoulos taking the cake. Stavropoulos claimed the whopping $1.6 million dollar prize after overcoming a field of 648 competitors and making a deal with heads-up opponent, Lennert Uphoff on the final table.
After a tense start, it came down to four hopefuls; Manny Stavropoulos, Lennert Uphoff, Joel Douaglin and James Rann, after two-time WSOP bracelet winner Brian Rast failed to match beat Uphoff's pocket Aces. Uphoff was in fine form, moving on to beat Rann's pocket deuces with pocket jacks to enter three handed play on a high note, while Stavropoulos stayed safely out of trouble.
Douaglin lost his chance of the lead after overcommitting in a blind battle with 8h-2d for middle pair on a 7c-10h-8d flop as Uphoff made the call with Ks-Ts for top pair, leaving Uphoff to battle with a two-to-one chip lead against local Aussie poker favourite, Stavropoulos.
Stavropoulos remained focused and took the chip lead before the two struck a deal, leaving $100,000 to play for. Chips continued back and forth until Stavropoulos gained control by calling third pair to the board against Uphoff's busted flush. The final hand came out 8d-Ad-9s-7h-8h. Stavropoulos made a bet of 850,000 and Uphoff declared himself all in. Stavropoulos called and tabled Jd-Ts for the Jack-high straight, beating Uphoff's Td-6d – a 10 high straight.
With that, a triumphant Stavropoulos welcomed in the crowd applause as he was crowned the 2015 Aussie Millions Champion, a moment that thrilled Australian audiences. The final results table of 2015 Aussie Millions Main Event is as follows:
1st – Manny Stavropoulos (Australia) – $1,385,000*
2nd – Lennert Uphoff (Germany) – $1,214,500*
3rd – Joel Douaglin (New Caledonia) – $630,000
4th – James Rann (UK) – $430,000
5th – Brian Rast (USA) – $315,000
6th – Anthony Legg (Australia) – $235,000
7th – Richard Lyndaker (USA) – $160,000
*heads-up deal
LK Boutique $250,000 Challenge
The most anticipated event of 2015's Aussie Millions Poker Championship and largest buy-in at a quarter of a million dollars also kicked off on Sunday. So far 23 participants have laid down the buy-in, including some of the world's biggest poker heroes with big crowds turning out at the Crown Poker Room to catch a glimpse of the action.
After nine levels of play, only 10 players remained. Scott Seiver rebought twice, adding a staggering $750,000 to the prize pool to establish the fourth largest stack behind Phil Ivey, Jason Mo and Doug Polk. Ivey has taken home the winning prize twice before, and enters the final day of competition in the lead, making him a pretty solid candidate to take out his third LK Boutique $250,000 Challenge title.
The final prize pool will be released after the registration closes on February 2, with Day 1's chip count leader board as follows:
Phil Ivey – 958,000
Doug Polk – 863,000
Jason Mo – 784,000
Scott Seiver – 632,000
Igor Kurganov – 549,000
Mike McDonald – 519,000
Richard Yong – 458,000
Dan Smith – 453,000
Erik Seidel – 381,000
Ole Schemion – 157,000
Aussie Millions 2015 $100,000 Challenge Winner
The lucky winner of the 2015 Aussie Millions $100,000 Challenge is Richard Yong, a Malaysian businessman who claimed a tasty $1,870,000 for his efforts. As a regular competitor in high roller poker tournaments for the past few years, this is the first time Yong has won a major tournament, beating leading German player Ole Schemion to victory.
Schemion still took home a nice $1,350,000 for finishing in second place, and Australia's only contender, Alex Trevallion finished in eighth place with $310,000 after winning the tournaments $25,000 Challenge earlier in the week. The final results were as follows:
1st – Richard Yong $1,870,000.00
2nd – Ole Schemion $1,350,000.00
3rd – Scott Seiver $1,000,000.00
4th – Justin Bonomo $800,000.00
5th – Jason Mo $630,000.00
6th – Erik Seidel $500,000.00
7th – Daniel Stern $400,000.00
8th – Alexander Trevallion $310,000.00
Aussie Millions 2015 $5,000 No Limit Hold'em 6-Max Results
At the start of Day Two of the $5K No Limit Hold'em 6-Max Challenge, 87 entrants were reduced to only 23. The final table was made up of poker heavyweights including Jack Slater, Simon Deadman and Mustapha Kanit, after big names including Liv Boeree, Jarred Graham, Yvgeniy Timoshenko, Jason Pritchard and Rory Young failed to make the cut.
It got to a heads-up between Salter and ACOP High Roller winner Senh Ung, with Ung ultimately claiming victory after a coin flip went his way. The final results of the 2015 $5,000 No Limit Hold'em 6-Max were as follows:
1st – Senh Ung $135,000
2nd – Jack Salter $85,850
3rd – Simon Deadman $57,250
4th – Huidong Gu $45,000
5th – Mustapha Kanit $32,700
6th – Bjorn Li $28,500
7th – Calvin Ho $24,600
2016 Dates for Aussie Millions Poker Championships
For those who are already counting the days until the next Aussie Millions Poker Championship, you can put January 13 2016 into your diaries. The event will be held at Crown Casino in Melbourne, Australia for the 18th year in a row and will run for 20 consecutive days, with an action packed schedule including official gold bracelet events, satellites, cash games and daily tournaments.
The beloved $10,600 Aussie Millions Main Event will run over eight days from Sunday 24th January to Sunday 31st January 2016, with such a high number of participants that the Main Event will now feature three starting flights, scheduled for January 24, 25, 26.
As Asia-Pacific's largest poker event, the coveted poker festival will take place in the Crown Poker Room, with close to 100 poker tables accommodating players from all over the world.
Aussie Millions Tournament Director, Joel Williams has predicted that the tournaments 18th year will be one for the history books. "As effectively one of the top poker majors and a favourite amongst some of the most renowned players in the world, and the stage has never been brighter, and the team are all hard at work to make the 18th event the biggest and best yet," he said.
The full 2016 schedule is expected to be released soon.
Sign up at 888 poker and get up to $88 in bonus bets – no deposit required