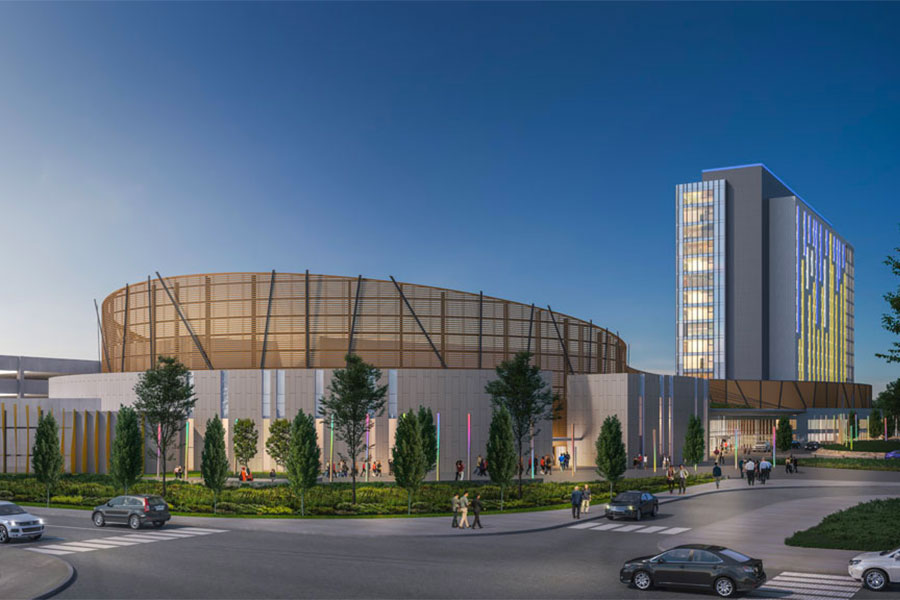 On Monday, January 16, Canada's top gaming and hospitality company, Great Canadian Entertainment, announced the opening of Pickering Casino Resort Hotel and its amenities. The 275-room hotel is located in the Pickering Casino Resort complex outside Toronto, the capital of Ontario province.
The gaming center of the C$500 million ($373m) premier entertainment resort is 96,000 square feet in size and started operating in July 2021, along with several other restaurants. The casino features a Great Canadian Sportsbook, 90 table games, 140 live dealer stadium gaming positions, and around 2,200 slot machines.
Besides the casino and hotel, Pickering Casino Resort Hotel consists of several exceptional dining venues, a flexible meeting space as well as a 2,500-seat theatre and event space that can accommodate up to 2,500 guests.
The entertainment venue is slated to host a live event towards the end of January. The performance is its first and will be followed up by several other concerts, specials, and sports events in the future.
Pickering's four dining options include CA-SU-AL (American), Rock House Grill (pub food), Zio's (Italian, pizza), and Sun Sui Wah (sushi). The venue will also have a Starbucks, and in the coming weeks, the Copperhorn Meet House, its fine dining steakhouse, will begin operations.
Five other restaurants are slated to open this winter, and other amenities like a health and fitness club, a motion pool, and a 24-hour business center will open in the next few weeks.
Pickering revealed that all its 275 guest rooms in the hotel are available for immediate bookings. The rooms range from 388 sq ft to 775 sq ft and have 33 luxurious and spacious suites complete with a separate living space. There are also 22 accessible rooms, all with convenient adjustments and several other amenities, and complimentary enclosed parking.
Pickering is offering customers a special introductory benefit and introducing 25% off the hotel's rate for the entirety of the year for Great Canadian Rewards members.
READ: Best online casinos in Canada
Great Canadian Entertainment's Chief Executive Officer, Matthew Anfinson, commented on the company's dedication to providing the best entertainment destinations to patrons across Canada. He said he was looking forward to giving more announcements as the week wore on after more dining and amenities opened up.
"We are committed to offering the very best in entertainment to destinations across Canada and continually heightening the experience for our guests while investing in the communities in which we operate," Anfinson said.
"Pickering Casino Resort is a great example of our vision to introduce multi-venue attractions that anchor the very best in hospitality, dining, and entertainment while allowing us to create over 1,000 meaningful jobs and provide significant economic benefit for Durham region."
"Great Canadian Entertainment, along with our partners, are very excited to invite everyone to experience this very special resort and look forward to sharing more news as even more dining and amenities open over the coming weeks."
The Pickering Casino Resort Hotel is the first such venue to be launched in Ontario since 2005. According to Great Canadian officials, another resort destination was in the works in the Greater Toronto Area and would tend to business and leisure travelers.
"A short drive from downtown Toronto, the resort is a perfect destination for business and leisure, offering premier accommodations alongside flexible meeting and event space for up to 2,500 guests, catering, state-of-the-art technology, and multiple entertainment options that are perfect for conferences, corporate meetings, and retreats," Great Canadian Gaming said in a statement.
Picketing Casino encountered its first labor dispute just over a year after it opened. In July 2022, gaming workers at the Great Canadian-owned Pickering and Casino Ajax went on strike. It lasted only two weeks before the interference of the workers' union, Unifor Local 1090.
The union was able to reach new terms with the company, which resulted in the 800 casino workers returning after an average 17% pay hike was agreed on over the period of the four-year terms.