What is the Ways to Win pokies format?
What is the Ways to Win pokies format?
Estimated reading time 3 minutes
When talking about ways to win pokies, we aren't talking about how you can win on the poker machines. Instead, we are referring to the format of the game. The titles scrap paylines and can come in 243, 720, 1024 and 3125 ways to win – all of which we look at below.

Where to play Ways to Win pokies online
How to ways to win pokies work?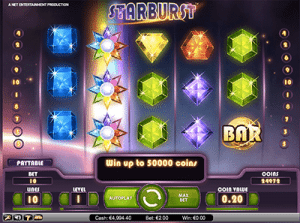 Paylines have been around since the first poker machine was invented and while the number of these have increased, the concept has remained the same – you need to line up symbols on active paylines to win.
But for those after more ways to win on a title the paylines need to be scrapped. This is exactly what innovative online software providers have done with first the 234 ways to win poker machine and now the 720 ways to win, 1024 ways to win and the huge 3125 ways to win titles.
The way these titles work is they don't require symbols to line up – payouts are won with every possible matching symbol in any direction across the reels. The amount specified on the title, such as 243 ways to win, is the number of combinations you can possibly win.
You will only find this format on 5 reel titles – which makes sense considering 3 reels are considered classics and this format is quite advanced – and many titles feature incredibly big wins.
You also won't find these titles at land-based casinos as they've only taken off on the Internet – which is fortunate since online pokies offer a better house edge anyway.
243 ways to win titles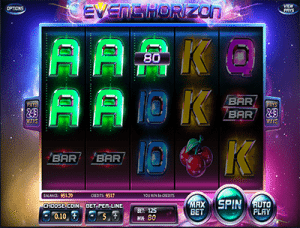 These titles were the first to be released without paylines. They were, and still are, innovative titles which offer players the chance to win up to 243 possible ways. There's 3x the chance to win per reel and with 5 reels this results in 3 x 3 x 3 x 3 x3 = 243 ways to win.
Microgaming was the first software provider to create these types of titles in 2009 with the first 243 ways to win game known as Burning Desire. The title works, for example, with a win if you manage to get a diamond on reels 1, 2 and 3, regardless where they are lined up.
Burning Desire was followed by more and more 243 ways to win titles including licensed pokies such as Game of Thrones and Jurassic Park which both offer audio and graphics from the TV show and movie, respectively.
These titles then were adopted by other top software providers including Net Entertainment, which offers many 243 ways to win pokies including the popular Twin Spin. A similar game to this pokie, which features a 70's theme and the 243 ways to win format is Event Horizon by BetSoft.
You can find all of these titles at Slots Million online casino.
720 ways to win titles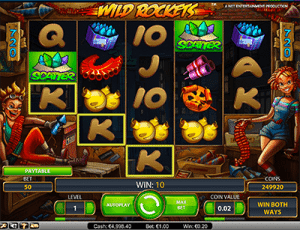 Next up we have the 720 ways to win pokies which see the entire reels transformed to accommodate the number of combinations – generally with three rows on reels 1 and 5, four rows on reels 2 and 4 and finally five rows on reel 3. This can change depending on the provider.
While not many providers have jumped on this ways to win combination format, one top provider, Net Entertainment, took on the challenge with their Wild Rockets title. The game features a firework and rocket theme with two cheeky kids hanging by the unique grid. You can win up to 480,000 coins and enjoy the incredible animations.
Find this title at Slots Million web casino.
1024 ways to win titles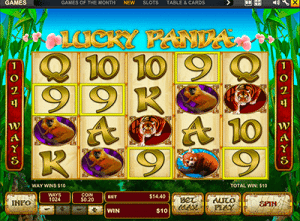 Many software providers passed on creating 720 ways to win pokies and went straight to the 1024 ways to win format. The format follows the same concept as the 243 ways to win but with 4x the chance to win per reel with four rows instead of three. This results in 4 x 4 x 4 x 4 x 4 = 1024 ways to win.
These pokies aren't as common as the 243 ways to win titles but there's more available from top providers than the 720 ways to win titles, as well as the 3125 ways to win variants which we detail below.
Hot Ink by Microgaming is by far the best 1024 ways to win title and it isn't due to the interesting tattoo theme. Instead the title offers one of the best RTP percentages for a pokie at 97.5%. This is a 2.5% house edge on a poker machine – land-based pokies can have a house edge of up to 13%, while online pokies can have a 2-10% house edge, though they usually have a house edge of around 4-5%.
Microgaming have quite a few 1024 ways to win titles available at our recommended online casinos including Royal Vegas Casino but other providers also offer their own 1024 ways to win variants.
Playtech offers a few including Lucky Panda which features a cute panda theme and 15 free spins which pay out big with this type of format in play. You can find this one at Casino.com.
3125 ways to win titles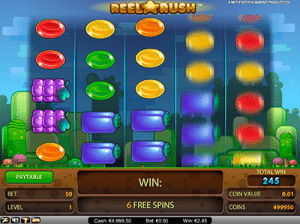 The latest advancement in ways to win pokies is the invention of the huge 3125 ways to win format and you guessed it, it features 5x chances to win per reel – 5 x 5 x 5 x 5 x 5 = 3125 ways to win.
Microgaming were the first to try their hand at producing a title with Dolphin Coast taking the Internet by storm. It features the chance to win a huge 7,500,000 on the dolphin themed title. There's also up to 25 free spins available and multipliers which increase your chance of scoring the huge payout. The one drawback is it isn't available on the instant play platform so only PC users can download the client and play the game.
Mac players don't have to worry though as there's a 3125 ways to win solution brought to you by Net Entertainment. While the Reel Rush title isn't always a 3125 ways to win option, the Free Spins Feature transforms the reels into the format when triggered. The format is also triggered if you win consecutively as Avalanche reels explode the outside symbols to trigger the 3125 ways to win format.
The title appears to be similar to Candy Crush, using classic fruit machine symbols in place of the gems. There's 480,000 coins to win and when the five Strawberry symbols activate the spins you will be treated to over 3000 ways to win.
What's the catch with so many ways to win on the pokies?
Unfortunately, there is a catch – but it isn't so bad you will never play these types of pokies again. The catch is simply the minimum bet is higher than what you would find on classic or traditional video pokies with paylines.
This means you won't find any ways to win titles with a minimum bet of $0.01 but you can still find titles under $1 per spin including the titles listed above.
We recommend Raging Bull Casino as our top-rated casino site for players from United States, which has some excellent welcome bonuses available for new players along with a great range of online slots, including 243 Way, 1024 and 3125 Way games.