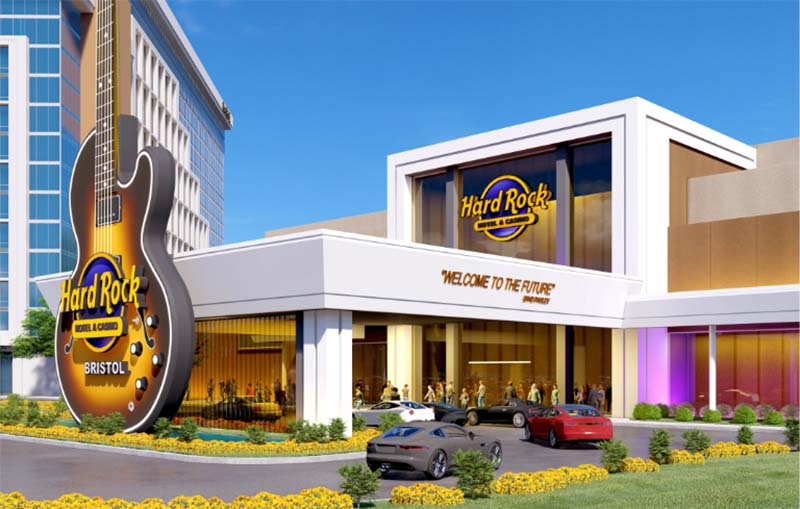 Hard Rock International has opened its doors in Bristol, Virginia, with local dignitaries marking the occasion with a ceremony on Wednesday.
The Hard Rock Hotel and Casino is located at 500 Gate City Highway and will cost the operator around $500 million.
Hard Rock Bristol is a combined effort between the parent company and several local businesses including The United Company and Par Ventures. COO of Hard Rock International Jon Lucas thanked United Company chairman Jim McGlothlin and Par Ventures president Clyde Stacy for their dedication to the project.
"We are especially grateful to our local partners, Jim McGlothlin and Clyde Stacy, whose vision has made all this possible," he said.
"Building on our momentum, and with the incredible support from the Virginia Lottery and the Bristol community, we are ready to begin the next chapter."
During the ceremony, Lucas touched on levelling the Sears building and the old J.C. Penney building. The Sears building serves as the casino site, while the hotel was relocated to the J.C Penny building.
"We experienced supply chain issues and construction costs escalating," he said.
"We took another look at what is the best way to do this and found tearing down the Sears building would be cheaper than trying to retrofit the Sears building. As we opened the temporary facility, we found pipes that had to be totally replaced and other challenges."
Per the new renderings, the six-story, 300-room hotel will be built where the previous Sears building stood, opposite Gate City Highway instead of the south parking area. Hard Rock's signature guitar is displayed on the front in a slightly more dreadnaught acoustic style.
The Bristol casino will be around 300,000 square feet and have a sportsbook, 50 table games, and 1,300 slot machines.
There will also be dining options for customers, including a Hard Rock Café equipped with a bar to provide live music, YouYu Noodle Bar, Council Oak Steaks and Seafood, and Constant Grind coffee shop. A spa, indoor/outdoor swimming pool, and fitness center are also included in the plans.
Lucas revealed that the Hard Rock Live facility would be moved to the property's north side, also known as the rear entrance of the mall. The facility notably has an indoor capacity of between 1,800 to 2,000 people.
The Mayor of Bristol, Virginia, Anthony Farnum said the community was happy to have Hard Rock revitalize a property that previously sat empty and unused.
"We are so excited to have Hard Rock here in Bristol," he said.
"After this property sat empty for a little while to have this space be revitalized and turned into something incredible like Hard Rock, it's great for our community.
"We welcome all of our visitors coming here now to the temporary site and will continue to come here for many years to come … This is a great day we're going to remember for a long time."
While waiting for the 2024 casino, guests can entertain themselves with the operator's temporary casino, Bristol Casino – Future Home of Hard Rock. It has a sportsbook, 21 tables, and 870 slots in its 30,000 square feet space.