Player etiquette at land-based casino tables
Player etiquette at land-based casino tables
Estimated reading time 4 minutes
We can all get overly excited when playing at a land-based casino but there are certain expectations when we enter one. Whether you're playing poker or blackjack there's a certain etiquette required of you when playing table games.

Best online casino alternatives
ALL AUSSIE ONLINE CASINOS
The following advice should therefore be considered before heading to a brick and mortar casino.
Learn the rules of the game before you sit at a casino table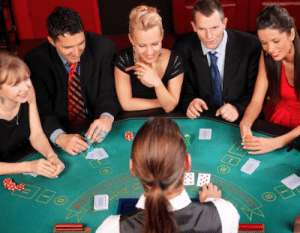 There are a few reasons why you should learn the rules of the game in question before you sit down, and not just to ensure you don't lose a lot of money.
Casinos may have around 20 or more tables in operation at the one time, but these tables can quickly fill up. As such, spots at tables are often in high demand and shouldn't be taken up if you aren't going to play. Out of courtesy for other players, if you don't know how to play the game and want to watch in order to learn simply hang back behind other players – quietly at that – rather than taking up a highly demanded spot.
If you do sit and plan to play, you should know the rules beforehand as it will slow gameplay up if you don't and affect other players.

Blackjack Casinos for Australians
So if you take a seat at a blackjack table and don't know the rules – hoping the dealer will help you – be prepared for other players to get very annoyed at you.
You can either learn by reading up on the rules, or better yet play online where no other players can get annoyed at how slow you play, or at any mistakes you may make. We recommend Raging Bull Casino for a huge range of blackjack variants, with the casino sites accepting players from United States.

Avoid drinking heavily at casinos
This tip should be a no-brainer, but unfortunately many players head to the casino for a big night on both the drink and the tables. This means players can get rowdy and become obnoxious to other players or cause frustration for other table players by being rude, or even slow.
If you want to head to the tables, try to pace yourself on the drink. After you've played your desired table game, whether it be blackjack, roulette, or another table title of your choice, you can then go and enjoy the rest of your night – perhaps in the sports bar.

Roulette Casinos for Australians
Social courtesy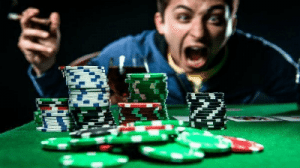 Players in a social setting need to be conscious of other players. Whether you are on a hot streak at a table, or a losing one, you need to be mindful of those around you. So you can't scream as loud as you want and rub your wins in other player's faces, nor can you abuse other players or the dealer when you lose.
You can scream as loud as you want at home, however. Try the table game catalogue at Raging Bull Casino and shout your rooftop off as you play from the comfort of your own home.
Should you tip the dealer?
Outside of the USA, many players often struggle with the idea of tipping, where tipping the dealer is not a mandatory or expected practice. But in some land based casinos the decision has been made for us, since it is illegal to tip at any land-based casino in Australia. Therefore you cannot leave a tip even if you wanted to for the dealer.
If you're heading overseas, especially to one of the many stunning gambling venues along the strip in Vegas, be expected to leave a tip irrespective if you have won or lost.
Do not add your friend's chips to yours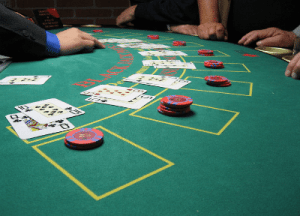 Every table game is played with chips and each chip features a different colour to indicate the amount it represents. You can purchase these from both the cashier and the dealer at the table of choice. If you are doing the latter, wait until the current round ends before doing so.
If you are playing at a table with your friends it is unacceptable to add their chips to yours and make a single bet. This will also annoy anyone who is waiting for a seat at your table or to play since you are all just making one bet.
Additionally, once bets have been made and called by the dealer, you should never touch chips which have been placed on the table layout, nor should you ever add more bets during this time. Casinos are very strict on this as it is deemed as unusual behaviour and can be considered cheating.

Internet table game etiquette
Playing table games online means you don't have to worry about what you wear, how you act, or even how you sound. Web-based blackjack, roulette, poker, and other table variants where you log in to a secure casino and play the RNG variants ensures no one can see you and you can't bother anyone even if you're rowdy and over-excited – but perhaps consider the neighbours.
We recommend checking out Raging Bull Casino, our top-rated casino site for players from United States, which has some excellent welcome bonuses available for new players along with hundreds of real money casino games to choose from, all that can be enjoyed from the peace and comfort of your own home.

Best Casinos for Australians