Estimated reading time 2 minutes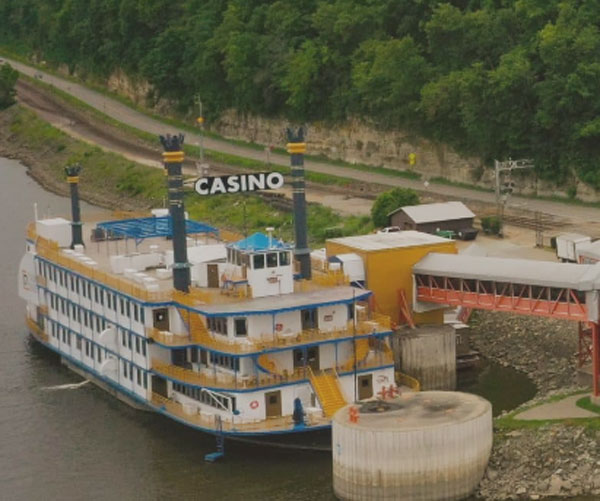 One of Iowa's three remaining riverboat gaming venues is set to change locations. On Thursday, the St. Louis-based owner of Casino Queen in Marquette, Queen casino & Entertainment, announced that the casino would be moved to dry land.
The plans for the riverboat casino to be moved to a dry land site from its Miss Marquette riverboat location recently received approval from the Iowa Racing & Gaming Commission. The casino's new venue will be at 100 Anti Monopoly Street in Driftless Region town.
Queen Casino & Entertainment revealed that it would add 12,000 square feet to the dockside building for the 17,000 square foot gaming venue. It would feature 400 more slot machines, in addition to two new blackjack tables and other gaming activities. There will also be a new main entrance, a sports bar, and dining areas.
The Iowa Racing and Gaming Administrator, Brian Ohorilko, said, "They're proposing to invest 12 million dollars into a land-based facility that would connect with their current barge area. They would add a sportsbook and a new restaurant."
Ohorilko stated that after Casino Queen in Marquette is moved to land, only two riverboat casinos in the state would actively be in operation.
"With Casino Queen moving gaming to a land-based area, that will leave just Lakeside (in Osceola) and Ameristar Casino (Council Bluffs) as the two remaining gaming licenses that still have casino gambling on a boat," he added.
With its move to dry land, Casino Queen has joined other casinos in Sioux City and Davenport, which made a similar decision. Ohorilko called the move a wise economic decision as both casinos in the cities had experienced significant improvement in their finances since moving to land. This is because inland operations have considerable advantages over businesses held in floating river barges.
Ohorilko continued, "The reasons for that are very simple — in that, typically, on a land-based facility – there is more space to offer, not only additional gaming but most importantly, additional non-gaming amenities."
While approving the move to land, the state's gaming commission allowed a proposed $31 million renovation of Harvey's in Council Bluffs. Rather than expanding the gaming options, most of the money will be used to build "a new Celebrity Chef Restaurant, a Guy Fierie restaurant, (and) renovation of all of their hotel rooms." The Iowa Racing and Gaming administrator disclosed that it would give guests a "more comfortable experience."
Casino Queen's current location on water has several diverse gaming options, including "566 slots and video poker games with an entire room dedicated to video poker. Players will also find eight gaming tables featuring craps, Mississippi Stud, and Ultimate Texas Hold 'em." The venue also has two live poker tables customers can play on weekends.
The state of Iowa legalized riverboat gambling as far back as 1991. At the time, individual gamblers could only place bets of not more than $5, and punters' losses were limited to $200 per session.
The state also mandated that the riverboats maintain their status as active boats by going on water excursions from time to time. This was scrapped in 2004 after the Iowa State Legislature voted to eliminate the requirement and allow gaming venues to moor their barges.
Casino Queen's move to land will mean only Ameristar Casino Hotel's casino in Council Bluffs and Osceol's Lakeside Hotel Casino on West Lake will be identified as riverboat casinos.