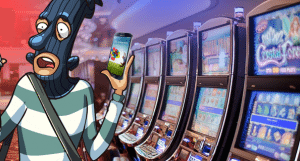 A Czech national part of an organised criminal syndicate has been sentenced to 22 months in prison following an attempt to cheat gaming machines in Singapore using illegal smartphone technology.
The Straits Times reports Rodoslav Skubnik, 40, used a mobile device with "highly sophisticated" technology at Resorts World Sentosa and Marina Bay Sands casinos to record play patterns of pokies machines from certain manufactures. He would then upload the data to an unknown server for analysis.
The results would be decoded and sent back to the user's phone, including alerts for the next mass payout of the gaming machine was sent out.
Skubnik admitted to three charges under the Casino Control Act. Alleged accomplices Vladislav Logachev, 40, and Andrei Egorov, 33, have cases pending and face seven years on each charge and up to US $110k (AUD $160K) in fines.
Deputy Public Prosecutor Jordon Li said Skubnik joined the syndicate in 2012, and was trained in Russia as the Master of a group of Players. The trio used the illegal recording software on pokies machines all across Europe, Macau and the United States.
At the end of their jobs, each Player received 10 per cent of their winnings, the Master received 5 per cent from every Player and the rest was sent to the syndicate.
Skubnik worked jobs in Macau and Prague earlier this year before heading to Singapore on May 5, winning $6,402 on a compromised gaming machine before winning $13,352 the two following days. However, his device was unable to accurately predict payouts of six other compromised pokies machines and he lost $783.
A total of about $120,000 in winnings was seized by police. Skubnik had faced three other potential charges with fines of up to $150,000 and additional jailtime prior to his sentencing.
In other recent pokies news, a South Australian town as recently trialled the use of cashless welfare cards to combat pokies problem behaviour to significant effect.
Are online casino safe?
It's a common misconception that scams, unfair game software and cheating players are rampant at online casinos, but this is entirely not the case. As long as an online casino is licensed by a reputable gambling jurisdiction, online casinos offer a high level of protection to players. Players from United States can try safe, secure online casino games at Raging Bull Casino for real money or free play, with all games protected by strict protocols.