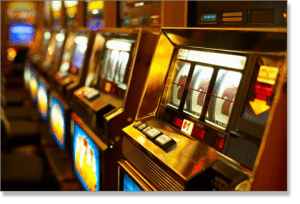 THE first test of the new government is imminent with anti-gambling campaigner Nick Xenophon vowing to push for reform that would see a $1 bet limit introduced on pokies.
Xenophon, who has emerged as a key player in the Australian political landscape after the July 2 election, is demanding problem gambling is put front and centre by Prime Minister Malcolm Turnbull, who requires the support of independents like the South Australian senator to run the country efficiently.
He is receiving staunch support from Tasmanian MP Andrew Wilkie with the pair also pushing for much stricter regulation surrounding gambling advertising, including a ban on ads during sports events and 'G rated' programming.
For Xenophon though, it is the slots that have been an ongoing battle, since he launched his career as an independent in 1997. He says change needs to come at a Federal level and he is planning on using his new-found leverage in the senate as his bargaining chip to force the Turnbull government's hand.
"I first saw the damage poker machines were causing while working in my suburban legal practice in the mid 1990's," he said.
"That's why I ran for State Parliament in 1997 on a 'No Pokies' platform. And I ran for the Federal Senate in 2007 because I believe the best way to bring about real change is to have national laws."
"The problem with State governments is that they are hooked on the $4 billion a year they rake in pokies taxes."
Australians have had a love affair with pokies since Aristocrat emeged in the 1950s, with the Sydney-based company now one of the biggest suppliers of gaming machines across the globe.
The industry is estimate to be worth over $19 billion dollars annually, with Xenophon claiming close to half of all this money contributed is from problem gamblers.
"Australians lose a staggering $19billion a year on pokies — 40% of that coming from problem gamblers," he said.
"The independent Productivity Commission recommended in 2010 for $1 maximum bets per spin and $120 in hourly losses – compared to the $10 bet per spin and $1200 per hour in losses that can happen now."
Some reform has happened across the country, including Victorian venues with pokies, where patrons must get approved for cash out over the bar before receiving their money via a machine. Although, Crown Casino gets around these rules by placing ATMs off the gaming floor.
Xenophon has long said that reform must be done at a Federal level to have a real impact.
Online casinos offer much more lenient betting options than land based pokies venues. Players from United States can play online pokies at Raging Bull Casino for real money or free play, as well as many other table games, number games and niche games.