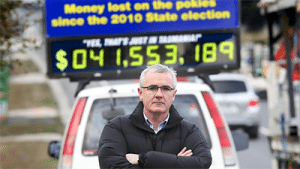 Amidst all the speculation brought on by this year's federal election, talk of a pokies reform has made it back onto the national agenda as Tasmanian independent Andrew Wilke pairs up with South Australia's Nick Xenophon to see how they can influence the upcoming government on the issue of the pokies.
While both Wilke and Xenophon have been loudly opposed to the pokies for years, Wilke's latest calls for a pokies reform has been met with ridicule from his political opponents who have accused him of striking a deal with Malcolm Turnbull despite Tasmanians forcefully rejecting the coalition at the polls last week.
Wilke wanted to make it clear that he has not struck any deals with Turnbull, stating, "I have given no support to any party, no support to any leader, I have done no deal with any party or any leader. All I have done is say that I will approach all parliamentary business on its merits and I would only support a move against Budget supply — or a no-confidence motion — if it is clearly warranted."
Franklin Labor MHR Julie Collins said Mr Wilkie could "spin it however he likes but the reality is he's supporting a Liberal agenda rejected by the Tasmanian community." Collins went on to argue that, "Mr Wilkie played himself out of a negotiating position by refusing to talk and now he's sold his vote to the Liberals for absolutely nothing. He has failed to even put Tasmania's interests on the table. With a statewide swing of over 4 per cent to Labor, Mr Wilkie should be pushing Labor's positive plan for Tasmania."
After the 2010 election, Wilke made pokies reform a condition of his support for the Labor party, but withdrew his support after the reforms fell short of the major overhaul he wanted. Now Wilke has announced he will meet with anti-pokies advocator Nick Xenophon this week to discuss how they might progress a pokies reform with the incoming government.
"We do have a wonderful opportunity here," said Wilke. "The majority of the crossbench in the Lower House are pro-reform."
He went on to declare that a pokies reform, "will always at the top of my agenda. Predatory gambling is [a] litmus test of good government. If a government is prepared to sacrifice literally hundreds of thousands of individuals because of gambling policies that allow this level of harm, then what else is going wrong?"
Will a pokies reform impact online casinos?
Whatever the outcome of the pokies reform and whether it even goes ahead or not, this will have no impact on the pokies offered at online casinos. Players from United States can get access to hundreds of online pokies at Raging Bull Casino for real money or free play, with games available from the leading online software providers.