3D online casinos
3D online casinos
Modern day slot machines are in abundance all over the Web, with hundreds of online casinos offering a staggering amount of choice when it comes to their real money slots and table game catalogues. One of the newest niches increasing rapidly in popularity is 3D and virtual reality casino games – and a few of our top recommended sites offer just that. 3D casino sites could be referring to virtual reality or various other types of casino games. The top 3D online casinos for December, 2023 are:

Best online casinos for 3D games
If you're looking for advanced and interactive 3D casino games for that extra kick of online entertainment, click or tap any of the above and below links on your computer, mobile or tablet device to start playing for real (or free with practice play) within a couple of minutes.
All major Web casinos we recommend offer 3D pokies and table games on a consistent basis. We've gone into more detail below as to what 3D games they offer.
Best 3D online casinos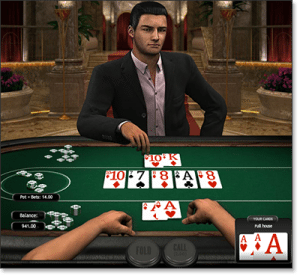 G'Day Casino: Our number #1 choice for 3D Internet casino games is easily G'Day Casino for its breadth of software offered from the likes of BetSoft, Net Entertainment, and even smaller studios like Leander Games and Mantle Games.
The game which solidifies G'Day's #1 spot and which is only available on its site is TVP – otherwise known as 3D TV Poker – by Mantle Games. Unlike standard video poker, TVP is an actual 3D video poker game with fully simulated players in a game of Texas Hold'Em.
G'Day also has a selection of other 3D animated virtual casino games, like American Football, Virtual Racebook 3D and Virtual Racing, Virtual Soccer Series games (World Cup, African and Euro) and more. Read our official review of G'Day Casino.
House Of Jack: House of Jack hosts a wide variety of casino games from multiple developers like BetSoft, Microgaming, and Play'n Go and this has allowed it to build an impressive portfolio of 3D video slots, which has gotten its own section on the site.
If you enjoy interactive and graphically intensive pokies, House of Jack hosts some of the best 3D games, including Gold Digger, Mamma Mia, Rook's Revenge and Slotfather, all located under its own special 3D Pokies category.
Also available at House of Jack is Poker3 Heads Up Hold 'em, an impressively detailed 3D poker game where you can play one-on-one against a digital dealer computer player, adding more player immersion into the average poker hand.
With the players, cards, chips and table fully realised in a 3D environment rather than the standard 2D video poker games and with a computer A.I. opponent, Poker3 is a great change of pace from the standard fare and offers something very different and very unique on the online real money games market.
For a full list of the leading online casino sites offering 3D casino games, refer to our table at the top of this page. We highly recommend Raging Bull Casino as our top-rated casino site for players from United States, which has some excellent welcome bonuses available for new players.
Virtual reality casinos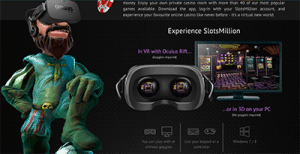 In 2015, SlotsMillion.com opened the first ever virtual online casino, allowing players who own Oculus Rift goggles (a head mounted display that delivers a stereoscopic 3D experience to the wearer) to walk the aisles of a virtual pokies lounge before selecting a virtual pokies game to play, fully immersing themselves in the atmosphere of playing in a real life casino.
Players can put on their Oculus Rift headset and enter the casino, and even if you don't have glasses you can still enjoy the 3D casino, if you have Windows 7 or 8. Although it isn't as graphically advanced as the virtual reality casino it still provides a nice spin on traditional gameplay. The best part is there's over 40 popular pokies to be found at Slots Million's 3D virtual reality casino.
There is now talk that Microgaming is planning on opening its own 3D virtual reality casino after the gaming giant revealed some upcoming plans at the Mobile World Congress in Barcelona in November 2015. Microgaming's virtual reality vision would also require the use of Oculus Rift goggles in order to produce a fully immersive, realistic roulette playing experience. Check back at TopOnlineCasinoSites.com where we'll reveal further developments regarding Microgaming's virtual reality games as they arise.
What are 3D online casino games?

The way Internet casino games are presented is quickly changing as renowned online software developers like BetSoft, Microgaming, Net Entertainment and NYX Gaming improve their in-house game-play engines and deliver more immersive, interactive content.
Casino games are no longer limited to traditional aesthetics or minimal graphical effects thanks to the flexibility of the digital space; players like to be entertained, so new sophisticated animations, audio, and artwork are continuously pushed to meet the demand.
3D online casino games are those which feature enhanced animations and graphics melded into the standard game-play, resembling the high-quality of graphics found in other mediums such as Pixar films or triple AAA video games. A 3D video slot machine might have reels pop-out of the screen as you score a scatter symbol, and a virtual poker game may have a 3D character model of your opponent, the table and the following play fully animated rather than a flat 2D representation of the game – the former is a lot more visually engaging.
Microgaming's 3D pokie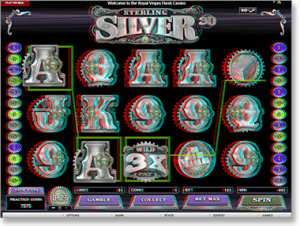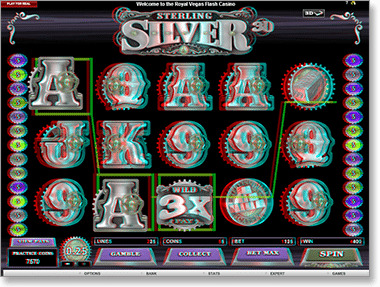 'True' 3D casino gaming experiences which actually use stereoscopic imagery are still finding its way into online casino markets. Microgaming, the leading casino software developer on the Net, has taken this approach for one of its video pokies, Sterling Silver, released in 2012 and available at several casinos, like Royal Vegas Casino.
Sterling Silver allows the use of the red-and-blue 3D glasses – usually reserved for watching films in the cinema – to experience the animations and gameplay in all three dimensions in full, but it's otherwise a stock-standard online slot and can be played in 2D.
Because not everyone has access to 3D glasses, the effect in Sterling Silver is somewhat wasted. It represents a still very much prototype concept in the field of online pokies and table games, and the niche demand of truly stereoscopic immersive 3D casino experiences.
3D live dealer games
Live Dealer games already available on the Web represent a significant step forward for online casino titles. Broadcasted over a high-quality video feed and streamed to a player's computer, these games enable more interactive sessions of baccarat, blackjack, and roulette with real dealers handling authentic equipment. Read more about 3D live dealer games.
Other 3D online pokies and table games
Right now, only a few select studios like BetSoft have tapped into the 3D pokies and table games niche. Animating a game with 3D character models and effects while maintaining an interactive environment (the player must be able to click and play, and thus influence the following animations) is a considerable task, so it's not a surprise many casino game developers are still toiling away on new and improved 3D experiences for customers.
The list of 3D casino games is continuously growing as developers work on new titles, and the team at TopOnlineCasinoSites.com will update it accordingly as new releases become available on our recommended online casinos so you know when a cool new 3D casino game officially launches.
Our top-rated casino sites are listed in the table at the top of this page. If any of the casinos we've mentioned in this article don't accept players from United States, we recommend Raging Bull Casino as our top-rated casino site for players from United States, which has some excellent welcome bonuses available for new players along with a great range of 3D casino games.