EiG Berlin has been promising a different perspective on the iGaming industry for weeks and day 2 proved to be the day it delivered.
Veteran gaming pioneer Don Daglow had a large number of people glued to his presentation which was based on the premise of what the gaming industry might be like in 2024. He drew on past experiences to describe what might happen in the future. He said human emotion was what draws people to gaming – if they connect with a sound or image they remember they are more likely to enjoy the game they are playing.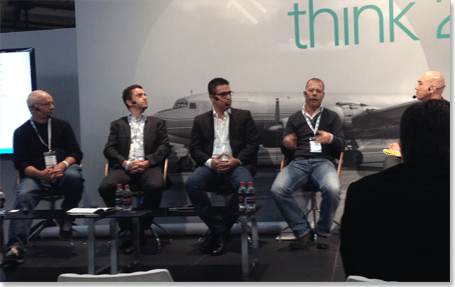 A few other big wigs (none quite as big as Don) joined him on stage soon after for a discussion, which included audience interaction, on the future of iGaming and how the computer game industry can move it forward. We heard from PariPlay CEO Gili LIsani who stuck his neck out, after the other experts echoed each other in social gaming being the biggest driving factor in the future, and declared virtual reality the future.
It's an exciting thing to think about, a virtual casino where you can wander around, just like you would at Crown Casino, Melbourne. The day that I can do this, is the day that I may no longer need to leave the house (sound good, future girlfriends?).
We saw a few people wandering around who looked a little lost, like they were walking around in a virtual world, but we worked out it was just chronic hangovers.
We're finding Berlin a hard place to get much sleep in and it seems many others are as well.
But it didn't dim the dress sense. After a stern talking to from our boss at CasinosOnline we failed to improve our dress code, but it appears that Europeans are immune from a bad hair day. The black bags below eyes were the only tell-tale signs of the carnage the night before on the many dance floors of Berlin.
After this discussion it was time to talk to BetConstruct's Commercial Director George Voyatzis who was very forthcoming about the software provider's newest games. We'll be providing a bigger story on this one, because he had plenty to say.
At the time of writing, the Australian contingent at EiG were dropping like flies on the eve of the big party on the Wednesday night. So far we have two confirmed absentees from the night of nights in Berlin and there are several others weighing up whether they will make it out.
There could have been two reasons this article wasn't published earlier: We drank far too much and this scribe was unable to write the article, or the EiG website was down and unable to provide us information.
I will strongly deny the first one, but again, I will whinge about the technical failure… Well not whinge, but point out the irony in an iGaming conference's website not working.
But again we're at pains to stress just how beneficial events like EiG are for the iGaming industry and just how much we took out of it.
So from the Aussie contingent at EiG, it's a big thanks to Clarion and the events crew.