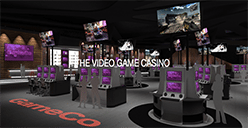 GameCo, Inc. have raised over $8 million for new games set to attract the next generation to casino floors.
The developers announced yesterday they would be launching the first skill-based video game gambling machines (VGMs) in casinos at the end of this year, with Atlantic City the first to trial them out.
This has been made possible due to the $8.25 million Seed and Series A financing raised with the help of Javelin Venture Partners, Courtside Ventures, and other investors.
The rollout will continue in 2017, with the main aim of capturing the attention of GenX and millennials to land-based casinos, and ultimately transform casinos into video gaming casinos.
The VGM resembles arcade games with a cabinet and controller, but player's can place wagers with their level of skill determining the payouts. Genres, which coincide with video games, such as action, fighting, sports, etc., will also be integrated in order to attract the desired audience.
GameCo co-founder and CEO, Blaine Graboyes, explained their solution for the current state of the gambling market on their website.
"Attracting millennials to the casino floor is the most critical issue facing gaming destinations today and GameCo is delivering the solution casinos need to engage this demographic," Mr Graboyes said.
"Our skill-based VGMs are the natural evolution of the slot machine.
"We have created a truly state-of-the-art experience that speaks directly to the nearly 93 million adult Americans that play video games."
Managing Director of Javelin Venture Partners, Jed Katz, further explained GameCo's vision.
"GenX and Millennials don't play slots, but they do play video games," he said.
"And while casinos have been attracting those customers with hot nightclubs, bars, and restaurants, it's only logical that they offer a gambling product that's attractive and fun for this customer base.
"We love GameCo's methodical approval to filling that void and we expect that they will establish a long term leadership position in a space that's about to get really big."
GameCo was founded in 2015, and consists of a team with a background in iGaming, video gaming, technology and live events.
The company strategically works with big names in both the iGaming industry, including IGT, Scientific Games, and AGS, and the video gaming industry, such as DreamWorks, The World Series of Video Games, WarGaming and more.
Partner at Courtside Ventures, Deepen Parikh, confirms GameCo's strategy, noting its effectiveness.
"Blaine has brought together a group of highly experienced casino and gaming industry veterans, developing what we believe is a strong competitive advantage, in a highly regulated industry."
Where can I play skill-based games online for real money?
True skill-based real money games similar to those GameCo develops aren't widely available at online casinos but it's only a matter of time before they become available to United States. In the meantime, check out Raging Bull Casino for the very best in card games and table games requiring strategy and tactics, such as blackjack, pai gow, poker and more.