Gambling has taken a hit not just for having a presence in sports, but for causing professional tennis stars to be cyber-bullied.
Yes, you read that correctly.
Cyber-bullying is not to be taken lightly. It causes psychological damage and has been the cause of the demise of many stars and everyday people. And now the New York Post are suggesting tennis players are blaming gambling sponsorships in the sporting industry for the increase of cyber-bullying.
But if you take a look at the removal of bookmaker William Hill on-court sponsorship by Tennis Australia at the Australian Open, you will realise this blame has been incorrectly shifted. Abuse still occurs, and while it is on the rise, it isn't the fault of gambling.
Just take a quick look at Nick Kyrgious's Instagram following his loss at the Australian Open, which didn't advertise gambling, and you will find at least four or more comments which amount to cyber-bullying on his latest image.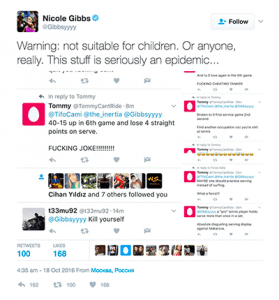 In the article on The New York Post which outwardly blames gambling sponsorships for the abuse, the author included the horrendous and cowardly comments from people all around the world on an American tennis player's Instagram.
"The amount of abuse we get after losing a match is ridiculous," Madison Keys said in an Instagram post, which featured multiple screenshots of the 'troll' who abused her on several pictures. "As if we're not trying as hard as we can to win matches. Maybe stop betting on tennis matches so you can just enjoy good tennis."
But on closer inspection these awful comments came following the loss to Angelique Kerber in the WTA finals in Singapore. Given this event had no gambling sponsorships whatsoever the link drawn is surprising.
Regardless, it seems some players do agree gambling sponsorships incite abuse, including American tennis player Nicole Gibbs who told The Australian last year playing in front of signs of betting-company sponsorships is "unsettling."
"It is really disturbing to me," she said.
"When I go to a tennis tournament and it is sponsored by one of these betting sites that I know my social media traffic is coming from after I take a bad loss."
This was paired with screenshots of abusive tweets she received last year following a loss in the first round of the 2016 Moscow Open. Trolls abused her and even went so far as to say "kill yourself". This is despite Russia having strict anti-gambling laws, meaning sponsorships aren't advertised here perhaps blurring the point the author was trying to make.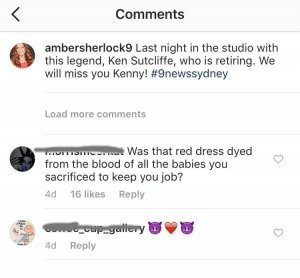 If the author was intending to perhaps suggest online betting sites were the problem, and not sponsorships, this can be easily looked at by comparing an industry which doesn't allow outcomes to be wagered on. Let's take the journalism industry. You can't wager on the outcome of a front-page story, but head to the journalist's Instagram page and it is guaranteed bouts of abuse from trolls will be filled in the comments section regarding the article if someone didn't like their work.
As more and more sports withdraw from gambling sponsorships, it will be interesting to see where the blame shifts for the increase of cyber-bullying, instead of tackling it head first and addressing the real issues.