Estimated reading time 3 minutes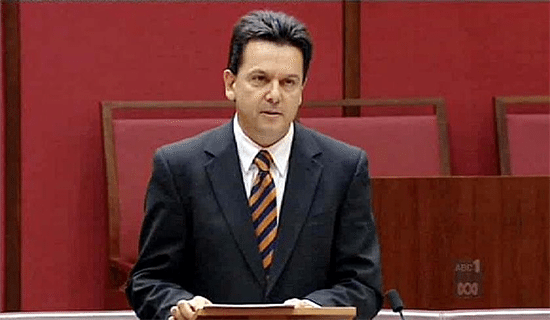 SOUTH Australian senator Nick Xenophon has called for a crackdown on money laundering in casinos and other gambling venues after a Chinese-Australian businessman allegedly cleaned over $850 million at Crown Casino, Melbourne.
Xenophon believes although this case involved a large sum of money, there is also evidence of money laundering which has flown under the radar of regulators because it involved smaller amounts of cash.
Xenophon is now pushing for the introduction of an anti-money laundering reform which would lower the threshold for which betting activity must be reported from $10,000 down to $1000, while it would also monitor large turnovers on the pokies, not merely winnings.
"Around Australia today money laundering is taking place using pokie machines. If you've just done a crystal meth deal, you could launder proceeds of that through the pokies, because the reporting requirements are so anaemic," Xenophon said.
"It's about the casinos and pokies being used to provide a high-speed washing and drying service."
Xenophon's call for stricter measures come after Chinese-Australian citizen Dai Bai Shun Jin is believed to have "bought-in" and cashed out a total of $850 million at Crown Casino across eight years, spanning from 2005 through to 2013.
The Australian Federal Police investigating the case suspect the large turnover indicates laundering at the Crown Casino, with the cash used to buy-in each time potentially tainted, with the cash obtained when cashing-out creating a legitimate source for the money.
The suspected money laundering case was revealed after Mr Jin's wife, Hongjie Mia, lost a bid against the US tax office to stop her from selling their Californian investment property worth a reported $US1.7 million which is alleged to have been purchased with the proceeds of crime.
Throughout the investigation, Mr Jin claimed he earns a base salary of $US300,000 in addition to $US200,000 in cash bonuses every six months as well as shares which are valued at $US100,000 each year.
However, the court has not seen any evidence to prove his income, while Mr Jin has never filed an Australian tax return.
Over the eight years in question, Mr Jin has admitted to moving millions of dollars in and out of various casinos, having won $17 million at Crown Casino, while also losing $US6 million at Las Vegas' Venetian Casino.
Other instances include Mr Jin transferring SNG $6.3 million to Crown Casino for gambling, while he has also borrowed $800,000 from his wife for gambling.
The AFP believe the large turnovers raise suspicion that Mr Jin has been cash-laundering by using funds supplied by others to gamble with and using multiple passports to hide who is controlling the funds which he uses to gamble.
Crown Casino has re-iterated to media it has an approved anti-money laundering compliance program. Under the program it reports significant cash transactions, international fund transfers and all suspicious matters to AUSTRAC, an anti-money laundering agency.
"Crown's compliance with this compliance program and anti-money laundering legislation is audited regularly by AUSTRAC and no compliance issues of any significance have been found," a Crown spokeswoman said.
"Crown has a strong reputation for co-operation with law enforcement agencies and works closely with Australian state and federal law enforcement to assist them with their intelligence gathering and operations, which may include giving evidence in court proceedings."
In other news, Xenophon has also been calling for first-person shooter video games to be re-classified as gambling, due to the rising prevalence of virtual marketplaces and trading fostered by these modern day entertainment products.
Not interested in Crown Casino?
Money laundering kind of puts a damper in heading out on the town for a great night at the casino. Our suggestion for players from United States? Just stay home and play at Raging Bull Casino on your computer or mobile. Not only is it more convenient and safe, but the option offers hundreds of real money slots and table game experiences, the diversity of which you can never get a land-based casino in your life-time.