Estimated reading time 2 minutes
Google has revealed it took down around 17 million gambling ads which did not meet its advertising policy last year.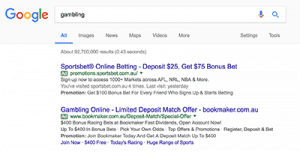 Despite the company's revenue predominantly coming from ads, Google's Director of Product Management, Scott Spencer, revealed in a blog post last week ads which promoted illegal online gambling were targeted and blocked in 2016. This only accounted for one per cent of the 'bad ads' blocked though, with a total of 1.7 billion removed.
This is an increase of 920 million ads which were removed in 2015.
"We saw more attempts to advertise gambling-related promotions without proper authorisation from regulators in the countries they operate," Mr Spencer wrote in the post.
It is understandable why the company is adhering to its ad policies – the more people are misled by ads, the more likely they aren't going to believe the ads which don't trick users. The company broadened its definition of ads which were unacceptable to include those which violate health policies, as well as payday loan companies, to name a few.
"We don't want you to feel misled by ads that we deliver, so we require our advertisers to provide upfront information for people to make informed decisions," Mr Spencer wrote in the blog post.
"Some ads try to drive clicks and views by intentionally misleading people with false information like asking, 'Are you at risk for this rare, skin-eating disease?'"
It also cracked down on so-called "tabloid cloakers" – these are advertisers which act as news sites, but once you click on the ad you are transported to a site selling, as an example, weight-loss supplements.
There were 22 cloakers in December 2016 alone with their ads viewed over 20 million times in just one week.
"In 2016, we suspended more than 1300 accounts for tabloid cloaking," Mr Spencer wrote.
"Unfortunately, this type of bad ad is gaining in popularity because people are clicking on them."
Google also revealed there was a "huge" increase in "self-clicking" ads on smartphones and tablets. These types of ads redirect users to their device's application store and apps are instantly downloaded, without permission. There was only a few thousand of these ads removed in 2015, but over 23,000 in 2016 were taken down proving these types of ads are increasing.
Efforts to bypass Google's automated gatekeepers were also reported to be increasing in 2016 as around seven million ads were taken down due to attempts to trick Google's detection systems.
Mr Spencer has revealed 2017 will be equally as difficult when it comes to blocking ads.
"As we invest in better detection, the scammers invest in more elaborate attempts to trick our systems," he wrote.
"Continuing to find and fight them is essential to protecting people online and ensuring you get the very best from the open web."
To ensure you are always safe while playing at real money casinos online, all players from United States should have a read of our list of online gambling sites you should always avoid so you know which names mean trouble – and which are the licensed, regulated casino sites you can play at safely, such as Raging Bull Casino.