How Mum taught me to be a good gambler
How Mum taught me to be a good gambler
Estimated reading time 4 minutes
Our parents were there to teach us a lot of things as we grew up, from how to ride a bike to the importance of eating our greens. But one of the most important things we learned from our mothers is good old fashioned common sense, the exercise of which can be applied to ensure safe and fun gambling practices.

Best online casinos for real money play
Morals installed by our parents like not to bite off more than you can chew go a long way when gambling. Thinking of your mother's voice stating these words of wisdom before the roulette wheel spins or you put another bet on the pokies can play a huge part in making sure you uphold you status as a good gambler.
Responsible gambling practices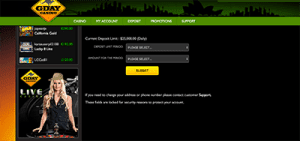 Employing responsible gambling practices is the most important thing you can do to be a good gambler. Hopefully your mother taught you how to manage money as this knowledge will come in incredibly handy when you enter the world of real money gambling. To ensure you are always gambling responsibly, consider these important points:
Consider your budget and only ever gamble money you can afford to lose. This means if you lose you won't be in a detrimental position and if you win, it's a bonus.
Set yourself limits, whether it be financially or time-wise, and stick to this no matter what. For example, your budget may allow you $100 per week to gamble with. Exercise that important self-control your mum always talked about and don't bet a cent more than that $100 under any circumstances. Time is also an important factor, as what was meant to be a quick blackjack game can easily turn into an all-night 21 frenzy. When gambling online, set yourself a time limit and call it a day once your time is up.
Don't chase losses, it will only end badly. If following our first two guidelines you shouldn't find yourself in a situation where you'd even need to consider chasing losses.
Avoid alcohol while gambling as it has a tendency to cloud your judgement and cause you to take higher risks
Keep an inventory of your gambling so you can reflect on how much money you're spending. Check bank statements or keep a spreadsheet of all your gambling expenditure, not including winnings.
Have realistic expectations. Gambling is intended to be a fun, recreational activity with the added bonus of winning some extra cash, it is not intended to provide a method of income or to pay your bills.
These responsible gambling practices are endorsed by key industry figures, but if you narrow it down it all comes down to the advice from your mother: be smart with your money, don't be greedy, use common sense, don't drink too much and don't take dangerous risks. Thanks mum!
How to bet safely online

If you're smart about it, gambling online can be just as safe as gambling in a bricks and mortar casino. Online casinos only ever receive a bad rap due to the cowboys out there who are trying to take unsuspecting players for a ride. Knowing what to look out for to avoid dodgy dealers will ensure you can bet safely and happily at a wide range of reputable online casinos without a care in the world.
When betting over the Internet, follow these guidelines to ensure protection of your money and personal details:
Only ever use reputable casinos that are fully licensed and accredited. Don't hand over money to any casino unless they are certified by eCOGRA and licensed by the UK Gambling Commissio, Curacao, Gibraltar, Malta, or Alderney.
Don't ever under any circumstances disclose your personal or financial details to other players within casino chat rooms or email. If a player at a casino requests this information from you, notify the customer service team immediately in order to protect other more vulnerable punters.
Gamble at venues that use reputable gaming software, like Microgaming, Net Entertainment, Next Gen Gaming, BetSoft, Ezugi, Play'N Go and so on. These companies use the best in gaming technology with reliable random number generators (RNGs) to ensure games can't be rigged. If you're unsure of the software being used, do a quick Google search, if you can't find any information about the company you can guarantee that it's dodgy.
Always use a secure banking method when placing real money bets. E-wallet services like Neteller allow you to load up your casino accounts without even having to give the casino your banking details. Credit cards like Visa and MasterCard also utilise the highest in security technology and have security teams dedicated to protecting their customers at all times.
For further information, read our top five rules for choosing a safe casino site.
All of the casinos recommended at TopOnlineCasinoSites.com are fully licenced, regulated and above board, providing the ideal platforms for online players to gamble legally and securely on their favourite casino games including pokies, blackjack, roulette, keno, baccarat, craps, poker and more. Your mum can sleep well at night knowing that players are protected with regulations and self-exclusion policies when gambling at these highly reputable websites.
We recommend Raging Bull Casino for players from United States, a top-shelf online casino site that's fully licensed and offers hundreds of secure online casino games.